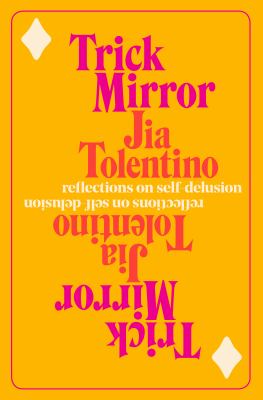 Trick Mirror
by Jia Tolentino


Publishers Weekly New Yorker contributor Tolentino debuts with a sharp, well-founded crackdown on the lies of self and culture in these nine original, incisive reflections on a hypercapitalist, internet-driven age that "positions personal identity as the center of the universe." While some essays peel back personal self-delusions-such as by recalling, in "Always Be Optimizing," how taking barre classes for fitness gave her the "satisfying but gross sense of having successfully conformed to a prototype" -others comment on broader cultural movements with frightening accuracy, for instance noting in "Pure Heroines" that "bravery and bitterness get so concentrated in literature, for women, because there's not enough space for [women] in the real world," or that the election of Donald Trump represents the "incontrovertible, humiliating vindication of scamming as the quintessential American ethos." The collection's chief strength is Tolentino's voice: sly, dry, and admittedly complicit in an era where "the choice...is to be destroyed or to morally compromise ourselves in order to be functional." While the insights aren't revelatory, the book's candid self-awareness and well-formulated prose, and Tolentino's ability to voice the bitterest truths-"Everything, not least the physical world itself, is overheating"-will gain Tolentino new fans and cement her reputation as an observer well worth listening to. (Aug.) © Copyright PWxyz, LLC. All rights reserved.
(c) Copyright PWxyz, LLC. All rights reserved
Library Journal In her debut, New Yorker writer Tolentino turns a critical eye on herself and, in doing so, highlights the troubling images reflected in current American culture. These essays examine reality TV, physical optimization, rape culture, and more, and pieces about constructing identity on the Internet—from Geocities to Twitter trolling to the scam of the Fyre Festival—are especially timely and affecting. Tolentino's take on these topics is dark—the word nightmare is often used to describe the depressing effects of social media—and the author finds that an overriding theme is the desire to be seen, even if the image isn't always positive. Overall, she highlights how people must ignore the rot of the world in order to function day to day, which might be the most sinister thing of all. The book is thoroughly researched, and nearly every page contains a revelation about contemporary culture. Tolentino's writing is just personal enough to put a human aspect to her points, so that readers feel them intimately, and she admits her own unseemly qualities with the same attention by which she examines the rest of the world. The final essay on marriage lags behind what is otherwise a cutting, brilliant collection. VERDICT An incisive collection that cements Tolentino as one of her generation's greatest cultural critics.—Katy Hershberger, School Library Journal
(c) Copyright Library Journals LLC, a wholly owned subsidiary of Media Source, Inc. No redistribution permitted.