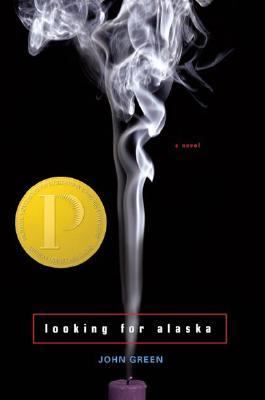 Looking For Alaska
by John Green


School Library Journal Gr 9 Up-Sixteen-year-old Miles Halter's adolescence has been one long nonevent-no challenge, no girls, no mischief, and no real friends. Seeking what Rabelais called the "Great Perhaps," he leaves Florida for a boarding school in Birmingham, AL. His roommate, Chip, is a dirt-poor genius scholarship student with a Napoleon complex who lives to one-up the school's rich preppies. Chip's best friend is Alaska Young, with whom Miles and every other male in her orbit falls instantly in love. She is literate, articulate, and beautiful, and she exhibits a reckless combination of adventurous and self-destructive behavior. She and Chip teach Miles to drink, smoke, and plot elaborate pranks. Alaska's story unfolds in all-night bull sessions, and the depth of her unhappiness becomes obvious. Green's dialogue is crisp, especially between Miles and Chip. His descriptions and Miles's inner monologues can be philosophically dense, but are well within the comprehension of sensitive teen readers. The chapters of the novel are headed by a number of days "before" and "after" what readers surmise is Alaska's suicide. These placeholders sustain the mood of possibility and foreboding, and the story moves methodically to its ambiguous climax. The language and sexual situations are aptly and realistically drawn, but sophisticated in nature. Miles's narration is alive with sweet, self-deprecating humor, and his obvious struggle to tell the story truthfully adds to his believability. Like Phineas in John Knowles's A Separate Peace (S & S, 1960), Green draws Alaska so lovingly, in self-loathing darkness as well as energetic light, that readers mourn her loss along with her friends.-Johanna Lewis, New York Public Library (c) Copyright 2010. Library Journals LLC, a wholly owned subsidiary of Media Source, Inc. No redistribution permitted.
(c) Copyright 2010. Library Journals LLC, a wholly owned subsidiary of Media Source, Inc. No redistribution permitted.
Book list Editor's note: When John Green published Looking for Alaska, which would go on to win the 2006 Michael L. Printz Award, he was working at Booklist as a production editor. It is Booklist policy that a book written or edited by a staff editor receive a brief descriptive announcement rather than a review. Green's first novel tells the story of 11th-grader Miles Halter, who leaves his boring life in Florida in hopes of boarding school adventures in Alabama. A collector of famous last words, Miles is after what the dying Francois Rabelais called ""the Great Perhaps."" At the boarding school, he is blessed with a fast-talking and quick-witted roommate, who just so happens to be friends with the enigmatic and beautiful Alaska Young. It's Alaska who introduces Miles to the purported last words of Simon Bolivar: ""Damn it. How will I ever get out of this labyrinth?"" It is a question that haunts Miles, particularly in the last third of the novel as he and his friends are forced to cope with loss.-- Copyright 2007 Booklist
From Booklist, Copyright © American Library Association. Used with permission.
Publishers Weekly This ambitious first novel introduces 16-year-old Miles Halter, whose hobby is memorizing famous people's last words. When he chucks his boring existence in Florida to begin this chronicle of his first year at an Alabama boarding school, he recalls the poet Rabelais on his deathbed who said, "I go to seek a Great Perhaps." Miles's roommate, the "Colonel," has an interest in drinking and elaborate pranks-pursuits shared by his best friend, Alaska, a bookworm who is also "the hottest girl in all of human history." Alaska has a boyfriend at Vanderbilt, but Miles falls in love with her anyway. Other than her occasional hollow, feminist diatribes, Alaska is mostly male fantasy-a curvy babe who loves sex and can drink guys under the table. Readers may pick up on clues that she is also doomed. Green replaces conventional chapter headings with a foreboding countdown-"ninety-eight days before," "fifty days before"-and Alaska foreshadows her own death twice ("I may die young," she says, "but at least I'll die smart"). After Alaska drives drunk and plows into a police car, Miles and the Colonel puzzle over whether or not she killed herself. Theological questions from their religion class add some introspective gloss. But the novel's chief appeal lies in Miles's well-articulated lust and his initial excitement about being on his own for the first time. Readers will only hope that this is not the last word from this promising new author. Ages 14-up. (Mar.) (c) Copyright PWxyz, LLC. All rights reserved
(c) Copyright PWxyz, LLC. All rights reserved