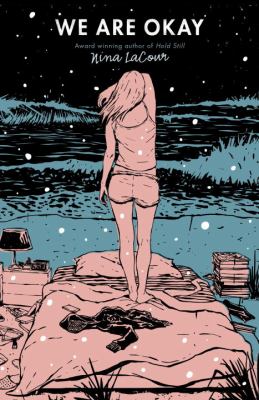 We Are Okay
by Nina LaCour


Publishers Weekly Over the winter holidays, college freshman Marin opts to remain in an empty dorm in New York rather than go home to California. The reasons she decides to stay gently unfold one layer at a time, in an introspective novel that powerfully explores her solitude and conflicted emotions against the backdrop of a stormy, icy winter. Marin's temptation to burrow under the covers and "stay in bed all day" has to be put on hold when an old friend, Mabel, comes for a visit. As Mabel attempts to persuade Marin to return to San Francisco (at least for a while), Marin is forced to confront the past she is trying to forget, namely the summer that began with Marin and Mabel taking their friendship into thrilling new territory and ended with the death of Marin's caretaker grandfather and the exposure of disturbing secrets. Through Marin's memories and cautious conversations with Mabel, LaCour (Hold Still) conjures a moving portrait of a girl struggling to rebound after everything she's known has been thrown into disarray. Ages 14-up. Agent: Sara Crowe, Pippin Properties. (Feb.) © Copyright PWxyz, LLC. All rights reserved.
(c) Copyright PWxyz, LLC. All rights reserved
Book list *Starred Review* It's the winter break during Marin's first year at college, and she is facing the holidays thousands of miles from her San Francisco home. Since her grandfather died the previous summer, Marin feels set adrift. Not only has she lost Gramps, her sole caretaker, but he'd been keeping secrets, and when she discovers the truth, it shatters everything she believed was true about her life. Engulfed in pain and feeling alone, she shuns her best friend Mabel's numerous calls and texts. But Mabel flies cross-country, determined to help her friend deal with her grief. Marin is afraid that Mabel regrets the physical intimacy that had grown between the two girls while she was still in California, and braces herself for more heartache, but Mabel surprises her in more ways than one. With the most delicate and loving strokes in Marin's first-person narrative, LaCour paints a captivating depiction of loss, bewilderment, and emotional paralysis. Images of the icy winter surrounding Marin in New York contrast sharply with her achingly vibrant memories of San Francisco. Raw and beautiful, this portrait of a girl searching for both herself and a sense of home will resonate with readers of LGBTQIA romances, particularly those with bisexual themes, and the poignant and affecting exploration of grief and betrayal will enchant fans of character-driven fiction.--Colson, Diane Copyright 2016 Booklist
From Booklist, Copyright © American Library Association. Used with permission.
School Library Journal Gr 8 Up-Her first semester of college behind her, Marin stays alone in the dorms over break, even with the threat of a snowstorm looming, rather than return to San Francisco, where bad memories lurk. Her best friend Mabel comes to stay with her, and over the next few days, Marin contemplates the events of last spring and summer and deals with her complicated relationship with Mabel. Slowly, readers learn more about Marin's life: the surfer mother who drowned when Marin was young, the father she never knew, the loving grandfather who raised her but whose concealed secrets kept a wall between them, and the painful events that sent Marin fleeing San Francisco. LaCour's use of settings is masterly: frigid and desolate upstate New York reflects Marin's alienation, while vibrant San Francisco evokes moments of joy. Though there's little action, with most of the writing devoted to Marin's memories, thoughts, and musings, the author's nuanced and sensitive depiction of the protagonist's complex and turbulent inner life makes for a rich narrative. Marin is a beautifully crafted character, and her voice is spot-on, conveying isolation, grief, and, eventually, hope. With hauntingly spare prose, the emphasis on the past, and references to gothic tales such as The Turn of the Screw and Jane Eyre, this is realistic fiction edged with the melancholy tinge of a ghost story. VERDICT A quietly moving, potent novel that will appeal to teens, especially fans of Laurie Halse Anderson and Sara Zarr.-Mahnaz Dar, School Library Journal © Copyright 2016. Library Journals LLC, a wholly owned subsidiary of Media Source, Inc. No redistribution permitted.
(c) Copyright Library Journals LLC, a wholly owned subsidiary of Media Source, Inc. No redistribution permitted.