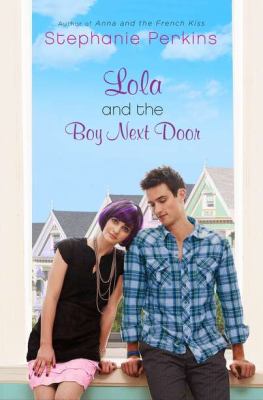 Lola and the Boy Next Door
by Perkins, Stephanie


Book list Lola, 17, is committed to her older musician boyfriend, Max, who is 22. And Max seems committed to Lola, so much so that he even joins her for family brunch on Sundays with her gay dads. Then the boy next door, who had moved away, comes back, and Lola has to figure out who she really wants in her life. The first half of this novel moves along with brio, introducing a slew of interesting characters, including the druggy mother who gave Lola to her brother and his partner to raise, her movie-theater coworkers, Max, and Lola's neighbor and first love, Cricket. Readers will be taken with Lola's strong voice as she tries to fit the ubernice Cricket back into her life even as she fights her strong attraction to him. The latter half of the book could have been tightened as it winds slowly to its inevitable yet sweet conclusion. Throughout, Lola wears costumes instead of clothes, in some ways to mask who she really is, and Perkins skillfully shows that learning to let one's authenticity shine through is what true love can make happen.--Cooper, Ilene Copyright 2010 Booklist
From Booklist, Copyright © American Library Association. Used with permission.
School Library Journal Gr 9-11-Seventeen-year-old Lola lives with her two fathers in San Francisco. An aspiring costume designer, she has an extreme style and a penchant for outlandish outfits, sequins, and wigs and no longer cares what anyone else thinks about her exotic outfits. She also dreams of a future with her boyfriend, Max, as he pursues his rock-and-roll career. But life rarely follows a plan, and Lola's seems to be falling apart. Her parents don't like Max, who is 22, and seem to go out of their way to express their displeasure (not that the restrictions have stopped Max and Lola's more amorous activities). Then Cricket Bell, the guy who broke Lola's heart two years earlier, and his twin sister move back into the house next door, and Lola's unstable birth mother moves in until she can find a new place to live. As everything begins to come apart at the seams, she learns that, like fabric, life's pieces can be sewn back together to create something better than what was originally designed. Perkins's novel goes a bit deeper than standard chick-lit fare, and Lola is a sympathetic protagonist even when readers disagree with her decisions. Her shaken certainties and the obstacles that are thrown in her path give her maturity and depth and, ultimately, settle her more firmly into her dreams with a greater confidence. Secondary characters are well developed and lend believability to the novel. Step back-it's going to fly off the shelves.-Heather Miller Cover, Homewood Public Library, AL (c) Copyright 2011. Library Journals LLC, a wholly owned subsidiary of Media Source, Inc. No redistribution permitted.
(c) Copyright 2010. Library Journals LLC, a wholly owned subsidiary of Media Source, Inc. No redistribution permitted.
Publishers Weekly Like its predecessor, Perkins's companion novel to Anna and the French Kiss has snappy dialogue and sexy love interests, though high-school junior Lola is a much more unconventional heroine. With an array of wigs and costumes at her disposal (her outfits include an Egyptian-inspired gown made from a sheet and a cheetah-print number adorned with red ribbons and brooches to protest game-hunting), she has no interest in blending in. As Lola begins her junior year, her goals are to get her fathers to approve of her 22-year-old boyfriend, Max, and to create a masterpiece Marie Antoinette costume for the winter dance. But complications arrive when Cricket Bell moves back next door. Two years ago he broke her heart, and seeing him again shakes her faith in her relationship with Max. What's a girl to do when two guys are into her? Lola indulges her inner angst plenty, but her self-deprecating sense of humor and Perkins's skill at capturing Lola's seesawing emotions make for a lively romance about a girl trying to understand who she is under all the gowns and glitter. Ages 14-up. (Sept.) (c) Copyright PWxyz, LLC. All rights reserved.
(c) Copyright PWxyz, LLC. All rights reserved