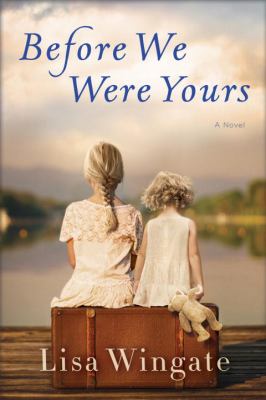 Before We Were Yours
by Lisa Wingate


Library Journal Christy and Carol Award-winning -Wingate (The Story Keeper; The Sea Glass Sisters) weaves a complex tale about two families, two generations apart, linked by an injustice, based on a notorious true-life scandal. The story begins in 1939 when Rill Foss and her four younger siblings, who had been happily living on their parents' shantyboat on the Mississippi, are seized by strangers and taken to a Memphis orphanage. In present-day South Carolina, the Staffords, a wealthy and prestigious family deeply immersed in the political realm, takes center stage when Avery returns home to help her father recuperate from a health crisis. There she experiences a chance encounter with a resident at the nursing home, which leads to her investigating her family's history. As secrets are exposed, the question is raised: Are some things better left hidden in the past, or is it best to have everything out in the open? VERDICT Fans of Ann H. Gabhart and Tracie Peterson will be drawn to this quietly strong novel. The thought-provoking subject matter makes this at times a difficult read; although not graphic in content, molestation and abuse are two of the tough topics handled.--Shondra Brown, Wakarusa P.L., IN © Copyright 2017. Library Journals LLC, a wholly owned subsidiary of Media Source, Inc. No redistribution permitted.
(c) Copyright Library Journals LLC, a wholly owned subsidiary of Media Source, Inc. No redistribution permitted.
Publishers Weekly Wingate's tightly written latest (after 2015's The Sea Keeper's Daughters) follows the interwoven story lines of Avery Stafford, a lawyer from a prominent South Carolina family, and Rill Foss, the eldest of five children who were taken from their parents' boat by an unscrupulous children's home in the 1930s. With her father's health ailing, duty-driven Avery is back in present-day Aiken, S.C., to look after him. She's being groomed to step into his senate seat and is engaged to her childhood friend, Elliot, though not particularly excited about either. Though her dad is a virtuous man, his political enemies hope to spin the fact that the family just checked his mother, Judy, into an upscale nursing home while other elder facilities in the state suffer. At an event, Avery encounters elderly May Crandall and becomes fascinated by a photo in her room and a possible connection to Judy. While following a trail that Judy left behind, Avery joins forces with single dad Trent Turner, with whom she feels a spark. This story line is seamlessly interwoven with that of the abuse and separation that the Foss siblings suffer at the hands of the Tennessee Children's Home Society, a real-life orphanage that profited from essentially kidnapping children from poor families and placing them with prominent people. Twelve-year-old Rill bears the guilt of not having been able to protect her siblings while also trying her best to get them home. Wingate is a compelling storyteller, steeping her narrative with a forward momentum that keeps the reader as engaged and curious as Avery in her quest. The feel-good ending can be seen from miles away, but does nothing to detract from this fantastic novel. (June) © Copyright PWxyz, LLC. All rights reserved.
(c) Copyright PWxyz, LLC. All rights reserved
School Library Journal Based upon the infamous Tennessee Children's Home Society child trafficking racket, this is a heartrending tale of two girls, two generations, and the power of family love. Twelve-year-old Rill is snatched from her riverboat home and forced into the institution, along with her four siblings, in 1939. Collusion between orphanage officials and the police in Memphis, from 1920 to 1950, enabled the forcible taking of poor children, who were adopted by wealthy families. Avery Stafford, born two generations later to an influential South Carolina family, with a U.S. senator for a father, is a successful lawyer and her father's presumptive heir to the Senate. When an elderly woman in Avery's grandmother's nursing home mistakes her for someone else, her curiosity is aroused. Avery explores the older woman's history only to find that her family may harbor a shameful secret. Teens will identify with Rill as she navigates a cruel, abusive, adult world and cheer her desperate yet doomed efforts to keep her siblings safe. Avery is a sympathetic character as she grapples with often suffocating family expectations and an emerging attraction for a man who is not her fiancé. The narrative moves between characters and eras, heightening emotions and suspense and leading to a satisfying redemption. VERDICT A poignant work that will appeal to fans of fact-based historical fiction, such as Anne Blankman's Prisoner of Night and Fog or Philip Kerr's The Winter Horses, and lovers of classic orphan stories.-Gretchen Crowley, formerly at Alexandria City Public Library, VA © Copyright 2017. Library Journals LLC, a wholly owned subsidiary of Media Source, Inc. No redistribution permitted.
(c) Copyright Library Journals LLC, a wholly owned subsidiary of Media Source, Inc. No redistribution permitted.
Book list Newly engaged Avery Stafford leaves her job as a federal prosecutor in Washington, D.C., to go back home to South Carolina, where she is being groomed to succeed her ailing father, a U.S. senator. At a meet-and-greet at a nursing home, she encounters May, a woman who seems to have some link with Avery's Grandma Judy, now suffering from dementia. The reader learns early on that May was once Rill Foss, one of five siblings snatched from their shanty home on the Mississippi and taken to the Memphis branch of the Tennessee Children's Home Society. The society seems too Dickensian to be true, except that it was, and its black-market adoption practices caused a stir in the mid-twentieth century. Rill's harrowing account of what befell the Foss children and Avery's piecing together (with the help of a possible new love interest) of how Rill and Grandma Judy's stories converge are skillfully blended. Wingate (The Sea Keeper's Daughters, 2015) writes with flair, and her distinctly drawn characters and adept use of the adoption scandal will keep readers turning the pages.--Quinn, Mary Ellen Copyright 2017 Booklist
From Booklist, Copyright © American Library Association. Used with permission.