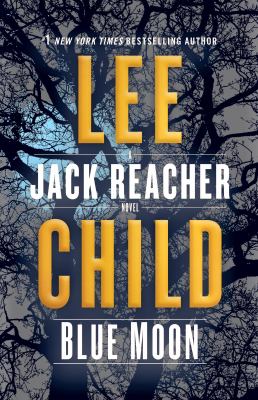 Blue Moon
by Lee Child


Book list We all wish we knew just a little bit more about a lot of things and could put that knowledge into decisive action in our work and in our personal lives. A little bit smarter, a little bit more savvy, a whole lot braver. Which is why we can't get enough of Jack Reacher. He's a fantasy figure, sure, but he's no cartoon character; Jack is made of brains, muscles, reflexes, and instincts just like us but way, way more so. Which is why you can read a Jack Reacher novel and feel like it's, well, almost real. And that's enough, more than enough, for a couple of hours of frenzied page-turning. You know the drill: Reacher is on a bus, passing through a random town, when something catches his eye. This time it's an elderly man about to be robbed. Reacher intervenes, but, of course, there's more. The man and his wife are deeply in debt to loan sharks for the most unassailable of reasons (daughter with cancer, insurance scam), so Reacher sets out to help, quickly finding himself in the middle of a turf war between Ukrainian and Albanian gangs. What to do? Kill them all, naturally. Child's plot tropes the ticking clock, the innocents in need, the overwhelming odds are starting to feel as familiar as his set-up, and not always in a good way. But, finally, we just don't care. We're here to watch Reacher work, outthinking and outmuscling the whole damn world if necessary (it almost is, this time). Will we get tired of Reacher at some point, tired even of our own fantasies of supercompetence? Maybe, but not quite yet.HIGH-DEMAND BACKSTORY: Reacher is so irresistible a character that he draws fans from every demographic. Even NPR devotees like to read about him killing people!--Bill Ott Copyright 2010 Booklist
From Booklist, Copyright © American Library Association. Used with permission.
Library Journal In his 24th adventure (after Past Tense), Jack Reacher steps off a Greyhound to prevent a mugging and into an organized crime battle in an unnamed, medium-sized U.S. city. His attempts to save Aaron Shevick backfire and lead to his tangling first with Ukrainian gangsters, to whom Shevick and his wife owe big money, then with their Albanian counterparts. The town is sewn up between the Ukrainians and Albanian gangs, and the body count has already racked up before Reacher enters the fray. Once he meets others who've been wronged by the gangs, including a comely waitress and several former servicemen, Reacher is ready to rumble. He soon realizes that an even more insidious villain is hiding in the city. Assembling his crew, Reacher makes plans to rid the city of crime, save his new friends, and locate a heartless software developer. VERDICT Some villains are dispatched too neatly and some allies are found too rapidly, but it doesn't matter. Reacher's plans of attack and wry observations are what fans come for and what they get here. Child touches lightly on current issues—corrupt tech entrepreneurs, economic disparity—but keeps the action flowing in this satisfying entry. [See Prepub Alert, 4/8/19.]—Liz French, Library Journal
(c) Copyright Library Journals LLC, a wholly owned subsidiary of Media Source, Inc. No redistribution permitted.
Publishers Weekly At the start of bestseller Child's riveting 24th Jack Reacher novel (after 2018's Past Tense), peripatetic vigilante Reacher rescues an elderly man carrying an envelope full of cash, Aaron Shevick, from a would-be mugger in an unnamed American city. Reacher escorts the shaken Shevick home, where he meets the man's wife and soon learns the couple are deeply indebted to loan sharks because of huge medical bills. Shevick is supposed to deliver the cash to an Albanian crook named Fisnik in a bar later that day, but when Fisnik doesn't show, Reacher ends up impersonating Shevick at the rescheduled meeting with Fisnik's replacement, a Ukrainian thug, who's never met Shevick. A turf war has just begun between the city's rival Ukrainian and Albanian gangs, and Reacher lands in the thick of it in his efforts to help the Shevicks. Reacher applies his keen analytical skills to numerous violent confrontations with bad guys who aren't as smart as he is. Readers will cheer as Reacher and his allies, a resourceful waitress and two fellow ex-military guys he hooks up with, take the fight straight to the top of the criminal command chain. Child is at the top of his game in this nail-biter. Agent: Darley Anderson, Darley Anderson Literary. (Oct.)
(c) Copyright PWxyz, LLC. All rights reserved
Kirkus Jack Reacher lends a hand to an elderly couple under threat from loan sharks and winds up in the midst of an underworld war in the 24th entry in this series (Past Tense, 2018, etc.).After Reacher saves an old man from a mugging, he finds out the man and his wife went into hock to get money for their daughter's lifesaving medical treatment. Meanwhile, in the unnamed city where the novel is set, the Albanian and Ukrainian crime bosses who have divvied up the territory are vying to see who can take over for good before the appointment of a new police commissioner. The sudden appearance of Reacher makes each suspect he's an agent for outside forces and accelerates the body count between them. That this is the best premise for a Reacher novel in some time, even if it's partly lifted from Akira Kurosawa's film Yojimbo, can't quite disguise that something has gone off in the series. Reacher's apologies to a suffering old couple that there's not much he can do isn't really what we want in a heroespecially one who has always taken such pleasure in pissing off bullies. Whenever the plot shifts to the machinations between the rival gangsters it bogs down in exposition. And while Reacher's ass-kickings have always been amusing, the series has never developed the dark ability to turn the violence into a deadpan sick joke. The carnage here should be funnier the more extreme it gets. It's not bad, but it's far from the tight, nifty execution that made the Reacher books so much fun to begin with.Perhaps if there were more time between chapters, Child's series could recover the polish it deserves. Copyright Kirkus Reviews, used with permission.
Copyright © Kirkus Reviews, used with permission.