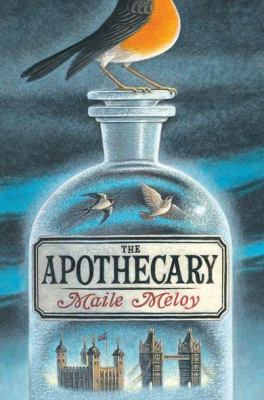 The Apothecary
by Meloy, Maile


Book list Janie, 14, has been living happily with her screenwriter parents in Hollywood. But it's 1952, and blacklisting makes it imperative that the family moves to London, where a TV job awaits. Janie is not happy about this, but a startling adventure opens to her as she becomes friends with Benjamin Burrows, whose father is an apothecary, and not just any apothecary. Mr. Burrows is part of a small, international group of scientists who are trying to contain the destructive results of the atomic bomb, including a weapon that is being tested off the coast of Russia. Those who know little about blacklisting, the Cold War, and European life after WWII will just have to dive into the fantasy-adventure pool, which runs long and deep. Magic elixirs, transformational disguises, and everyday cunning help Janie, Benjamin, and several scientists elude capture and defeat the desperate cabal that supports the Soviet Union. Readers must be willing to traverse a complicated tale and avoid stepping in a few plot holes, but Meloy offers a strong narrator in Janie and an intriguing mix of history and mystery.--Cooper, Ilen. Copyright 2010 Booklist
From Booklist, Copyright © American Library Association. Used with permission.
Publishers Weekly When the House Committee on Un-American Activities targets Janie's television writer parents, the 14-year-old and her family flee from Los Angeles to London. There, Janie meets Benjamin, a "defiant" classmate, and his father, the neighborhood apothecary, who is involved in much more than hot water bottles and aspirin. In fact, he is part of a long line of apothecaries who have discovered miraculous secrets-truth serums, invisibility, amazing physical transformations-and he is now working with scientists on an incredible plan that has global ramifications with regard to the escalating tensions between the Soviet Union and the United States. Some readers may need to brush up on cold war history to fully appreciate the stakes, but even those with a vague understanding of the times will be quickly swept up in this thoroughly enjoyable adventure, filled with magic, humor, memorable characters, and just a bit of sweet romance. With evocative, confident prose and equally atmospheric spot art from Schoenherr, adult author Meloy's first book for young readers is an auspicious one. Readers will hope they haven't heard the last from Janie and Benjamin. Ages 10-up. (Oct.) (c) Copyright PWxyz, LLC. All rights reserved.
(c) Copyright PWxyz, LLC. All rights reserved
School Library Journal Gr 5-8-A fairly interesting mystery set mostly in 1952 London, The Apothecary offers a little of everything; magic, romance, mystery, and historical fiction. When friends of Janie's parents are blacklisted in Hollywood (they are a television writing team), the Scotts move to London. Around the corner from their flat is a mysterious shop with an enigmatic apothecary. The man's son is Janie's new friend at school. When she and Benjamin, who aspires to be a spy, happen to witness a handoff involving a Russian attache in the park, the teens get more than they bargained for. As it turns out, not only is Benjamin's father involved, but the Latin instructor at their school is also a part of this web of espionage. The two rush to save the apothecary only to find out that he is attempting to stop a nuclear test in Soviet territory. Everyone goes along to help stop the explosion. However, the magic occasionally feels like a contrivance to move the plot forward instead of an organic part of the fantasy. The ending is sort of a free-for-all, and the created world doesn't really keep to the rules set up at the beginning. Nonetheless, this is a highly readable adventure/mystery, and it is greatly enhanced by Schoenherr's graceful and evocative illustrations.-Robin Henry, Wakeland High School, Frisco, TX (c) Copyright 2011. Library Journals LLC, a wholly owned subsidiary of Media Source, Inc. No redistribution permitted.
(c) Copyright 2010. Library Journals LLC, a wholly owned subsidiary of Media Source, Inc. No redistribution permitted.