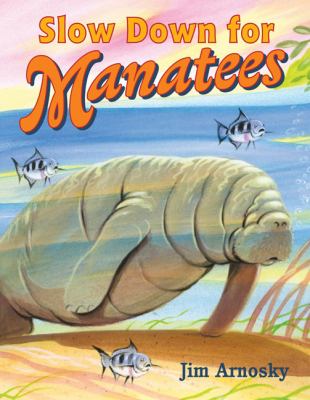 Slow Down for Manatees
by Jim Arnosky


Publishers Weekly Arnosky (A Manatee Morning) again focuses on this gentle marine mammal in a story inspired by an actual incident. A fast-moving boat hits a manatee swimming in a shallow Florida canal, crushing her ribs and slicing her back and tail with its propeller. Rescuers move the animal to an aquarium, where her wounds heal and she gives birth to a calf. After mother and baby are returned to the wild, a sign is placed in the waterway, warning skippers to slow down and watch for manatees. "And from then on, that's exactly what the boaters did," writes the author, in a happy if perhaps overly optimistic ending. With the exception of a few striking night scenes, Arnosky's acrylic artwork most resembles vintage "Greetings from Florida!" postcards, as pale washes bring to life the aquamarine waters, fuchsia sunrises, and assorted wildlife of the tropical setting. Text and art work in tandem to present a portrait of a gentle, innocent creature ("She wasn't in a hurry. She had all the time in the world"). A solid addition to naturalist Arnosky's oeuvre. Ages 3-5. (Feb.) (c) Copyright PWxyz, LLC. All rights reserved
(c) Copyright PWxyz, LLC. All rights reserved
School Library Journal Gr 1-3-A pregnant manatee swimming in the shallow waters of a Florida canal is injured when a fast-moving motorboat hits her, cutting her back and tail with its propellers and crushing her ribs against the canal bottom as it passes over her. Luckily, the accident is observed by some fishermen who alert a rescue group that has the equipment to remove her from the canal to a seaside aquarium tank where she can be observed and heal. She soon becomes a favorite of aquarium visitors and, after she gives birth to a healthy calf, both are returned to the same canal where the cow was found, along with a sign-"SLOW DOWN! MANATEES." This fictional account of an actual event is told in a brief, straightforward text. An author's note advises readers that manatees, a protected endangered species, have few natural enemies. Their primary "predators" are boat propellers, which can inflict fatal wounds on them. Once again, Arnosky has produced a short nature lesson designed to introduce young children to an animal and its habitat and to develop appreciation and respect for the natural world. His appealing realistic acrylic wash paintings-most featuring the bright aqua, marine blue, and yellow-greens of the ocean-accurately convey the action.-Susan Scheps, Shaker Heights Public Library, OH (c) Copyright 2010. Library Journals LLC, a wholly owned subsidiary of Media Source, Inc. No redistribution permitted.
(c) Copyright 2010. Library Journals LLC, a wholly owned subsidiary of Media Source, Inc. No redistribution permitted.
Book list A pregnant manatee's painful encounter with its species' chief predator people in a motorboat sparks a successful animal-rescue effort in Arnosky's latest foray into natural history. In illustrations done with pale, translucent washes of color, young readers can follow workers as they carefully hoist the injured animal out of the water, transport her to a holding pen until the (bloodless but deep and plainly visible) propeller slashes across her back start to heal, then release her and her newborn baby back into the wild. The gentle giants' behavior is never anthropomorphic here, though a closing claim that boaters from now on will heed a newly posted warning sign ( Slow Down! Manatees ) may be a touch idealistic. An afterword goes into greater depth on the dangers that boats, even those piloted by very careful captains, pose to manatees, and on the real account that inspired this tale.--Peters, John Copyright 2010 Booklist
From Booklist, Copyright © American Library Association. Used with permission.