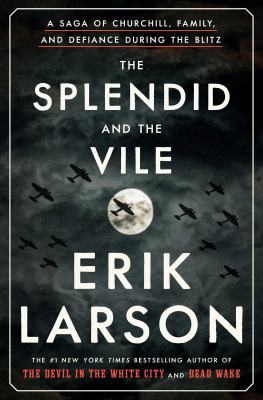 The Splendid And The Vile
by Erik Larson


Kirkus The bestselling author deals with one of the most satisfying good-vs.-evil battles in history, the year (May 1940 to May 1941) during which Churchill and Britain held off Hitler.Bookshelves groan with histories of Britain's finest hour, but Larson (Dead Wake: The Last Crossing of the Lusitania, 2015, etc.) employs a mildly unique strategy, combining an intense, almost day-to-day account of Churchill's actions with those of his family, two of his officials (Frederick Lindemann, who was Churchill's prime science adviser, and Lord Beaverbrook, minister of air production), and staff, including private secretary Jock Colville and bodyguard Walter Thompson. Since no one doubted they lived in extraordinary times and almost everyone kept journals and wrote letters, the author takes full advantage of an avalanche of material, much of which will be unfamiliar to readers. Churchill remains the central figure; his charisma, public persona, table talk, quirks, and sybaritic lifestyle retain their fascination. Authors have not ignored his indispensable wife, Clementine (Sonia Purnell's 2015 biography is particularly illuminating), but even history buffs will welcome Larson's attention to their four children, especially Mary, a perky adolescent and his favorite. He makes no attempt to rehabilitate Winston's only son, Randolph, a heavy-drinking spendthrift whose long-suffering wife, Pamela, finally consoled herself with a long affair with American representative Averell Harriman, which was no secret to the family and was entirely approved. Britain's isolation ended when Germany invaded the Soviet Union on June 22, 1941, but Larson ends on May 10. The Blitz was in full swing, with a particularly destructive raid on London, but that day also saw Rudolf Hess, Hitler's second in command, fly to England and engage in a wacky attempt (planned since the previous autumn) to negotiate peace. Nothing came of Hess' action, but that day may also have marked the peak of the Blitz, which soon diminished as Germany concentrated its forces against the Soviet Union.A captivating history of Churchill's heroic year, with more than the usual emphasis on his intimates. Copyright Kirkus Reviews, used with permission.
Copyright © Kirkus Reviews, used with permission.
Library Journal New York Times best-selling author Larson here investigates Winston Churchill as leader in the early days of World War II. Drawing on intelligence reports, recently declassified files, and personal diaries only now made available, Larson presents not just Churchill but those in his immediate circle, from his family to private secretary John Colville and newspaper baron Lord Beaverbrook.
(c) Copyright Library Journals LLC, a wholly owned subsidiary of Media Source, Inc. No redistribution permitted.
Library Journal In this illuminating history, best-selling writer Larson (Dead Wake) offers context for and understanding of Britain's defense against Hitler's Germany under Winston Churchill's leadership during World War II. Focusing on a single year (May 1940-May 1941), which coincided with Churchill's appointment as Prime Minister, Larson presents a near-daily account through a combination of diary and journal entries, archives, and new reports from Churchill's family, including his wife Clementine and his children, as well as officials from Britain, Germany, and the United States. The picture he paints unearths the intimate details of Churchill's family and cabinet, leadership style, personality, and idiosyncrasies, all of which laid the foundation for his determination to unite Britain during this national emergency while also navigating the monumental task of keeping the United States and President Roosevelt close at hand. VERDICT Blending a gripping narrative and a well-researched examination of personal and news archives, Larson's distinctive history of Britain's "darkest hour" offers a new angle for those already familiar with this era, while attracting readers who wish to learn more about the notable leader. [See Prepub Alert, 9/9/19.]—David Miller, Farmville P.L., NC
(c) Copyright Library Journals LLC, a wholly owned subsidiary of Media Source, Inc. No redistribution permitted.