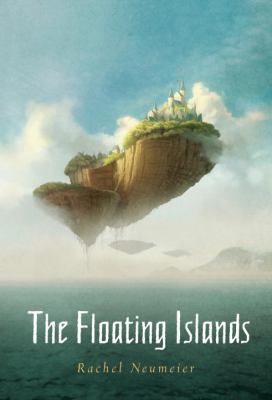 The Floating Islands
by Neumeier, Rachel


School Library Journal Gr 6 Up-Tragically losing his family in Tolounn and then turned away by his Tolounnese uncle, grieving Trei, 14, ventures to the Floating Islands (kept aloft by wind dragon power) hoping his mother's family will take him in. Seeing the kajuraihi-an elite group of men who borrow wind dragon power to fly-Trei immediately longs to become one despite being only half-Islander. He finds a kindred spirit and eventual coconspirator in his sharp-tongued cousin Araene. Society would have Araene's ambitions stop at wife and mother but with her culinary talent she'd prefer to be a chef. A habitual secret jaunt while disguised as a boy leads her to the hidden school for mages and she discovers yet another supposedly male-centric gift. Neumeier's primary heroes-Trei, Araene and, to some extent, Trei's friend and fellow kajuraihi novice, Ceirfei-all struggle to find their true purposes despite the limitations others place on them. In the process they prove to be invaluable allies and assets when warmongering Tolounn threatens to conquer the Floating Islands. While the mechanics of magic need more explanation and similar-sounding names may give pause, the well-drawn protagonists are sympathetic and behave consistently. Emotions are palpable, from grief and doubt to frustration. Neumeier has a talent for world-building and a knack for description, evident in her unique settings. Recommended for general purchase in school and public libraries with a fantasy fan base.-Danielle Serra, Cliffside Park Public Library, NJ (c) Copyright 2011. Library Journals LLC, a wholly owned subsidiary of Media Source, Inc. No redistribution permitted.
(c) Copyright 2010. Library Journals LLC, a wholly owned subsidiary of Media Source, Inc. No redistribution permitted.
Book list Themes of finding home, creating identity, and sorting out loyalties in the face of others' suspicions are woven beautifully into this fantasy story. Trei, who lost his family and home in a disaster, eventually finds his way to another country, the home of his cousin Araenč. The two become tentative friends and share their personal dreams: his, to fly with the majestic wingmen, and hers, to study to become a chef, although she must disguise herself as a boy in order to attend school. Their adventures converge when Trei's adopted homeland is threatened by attack from his land of birth. Araenč provides the necessary defensive weapon a dragon's egg acquired illegally on her first day in the mage academy. Both adolescent and adult characters are rounded and realistic, and the two cousins' parallel journeys are equally absorbing. Neumeier's writing is fluid and evocative, and the questions raised are reflections of those intrinsic to every individual's journey to adulthood.--Goldsmith, Francisca Copyright 2010 Booklist
From Booklist, Copyright © American Library Association. Used with permission.