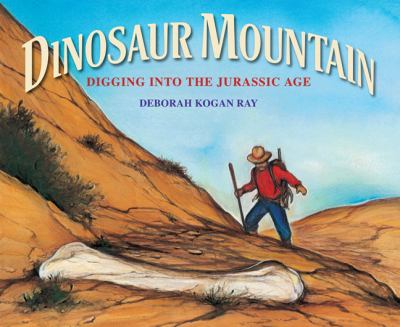 Dinosaur Mountain
by Deborah Kogan Ray


School Library Journal Gr 3-6-Using the same tawny palette as in Down the Colorado (Farrar, 2007), Ray has painted soft-edged backdrops for her lucid exposition of the life work of Earl Douglass, fossil-finder extraordinaire. Benefitting from the Cope/Marsh "Bone Wars" and the deep pockets of philanthropist Andrew Carnegie, Douglass embarked on a1909 expedition to the Uinta Basin (Utah) to find Carnegie's demand for "something big." What he found was BIG-a bone bed that ultimately became Dinosaur National Monument. The readable text is bracketed by large illustrations and smaller diagrams, charts, maps, and, most importantly, direct quotes from Douglass's field journals. Added for readers' edification is a cast of characters of 10 Jurassic dinosaurs found at Dinosaur Mountain, a large map of the monument (which spreads across the Utah/Colorado border), an extensive author's note, a brief bio of Douglass, and an even briefer one of Carnegie. With its sand-colored pages, the warmth of the palette, and the brown script of the journal notes, this is a vibrant window into the burgeoning world of American paleontology a century ago. A rich find.-Patricia Manning, formerly at Eastchester Public Library, NY Copyright 2010 Reed Business Information.
(c) Copyright 2010. Library Journals LLC, a wholly owned subsidiary of Media Source, Inc. No redistribution permitted.
Book list When 165,000 people flocked to see the first exhibited dinosaur, in 1868, it commenced the Bone Wars a race by rival paleontologists to turn up and identify the most spectacular of extinct giants. Archrivals stooped to underhanded methods, including spying, bribery, and even hijacking fossil shipments. But when Earl Douglass was employed by Andrew Carnegie to find something big, he set out with the best of intentions and found the biggest rewards: a mountain in Utah that would ultimately reveal some of the greatest and grandest dinosaur skeletons anyone had ever seen. Although Ray's expressive art lacks the fine detail to help illustrate complicated excavation techniques, it excels in capturing the grandeur and wonder of key moments, like Douglass stumbling upon a six-foot thigh bone or the uncovering of a massive line of a vertebrae. Excited journal entries from Douglass enliven the informative text, and small sketch book-style drawings of fossils and tools add a scholarly touch. This will push all-new buttons of the dinosaur lovers in your life.--Kraus, Daniel Copyright 2010 Booklist
From Booklist, Copyright © American Library Association. Used with permission.
Publishers Weekly This dynamic book brings readers into the "Bone Wars" of the late 19th and early 20th century, focusing on Earl Douglass, a fossil expert whose search for "something big" made him one of the era's most successful "bone hunters." Ray's sweeping scenes of the dry Utah landscape capture the excitement of the hunt, while drawings of the paleontologists' presumed fossil finds, hand tools, and graphs and charts offer insight into the meticulous nature of the work. Clear, rich prose documents Douglass's quest-"His heart pounded with anticipation as he began to chip into the sandstone. Slowly, one tailbone after another was revealed"-and his own field notes are integrated throughout. Ages 8-up. (Apr.) Copyright 2010 Reed Business Information.
(c) Copyright PWxyz, LLC. All rights reserved