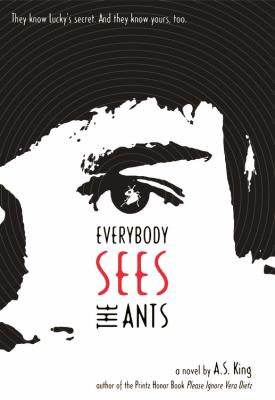 Everybody Sees the Ants
by King, A.S.


Book list *Starred Review* Fifteen-year-old Lucky Linderman doesn't feel lucky. After creating an ill-conceived school survey on suicide, he is besieged by well-meaning but ineffective adults who want to make sure he's okay. But though he is honest about how not okay Nader McMillion's bullying is, no one intervenes, not even his parents, who are too caught up with their own inadequacies. Better to pretend everything's fine, even when Nader's bullying escalates, and Lucky begins seeing the ants, a tiny Greek chorus that voices what he cannot. The only place Lucky has agency is in his dreams, where he runs rescue missions to save his POW-MIA grandfather from Vietnam. But are they only dreams? Blending magic and realism, this is a subtly written, profoundly honest novel about a kid falling through the cracks and pulling himself back up. Lucky narrates with bewildered anger and bitter humor, his worrisome moments of emotional detachment going unnoticed by the adults around him. Though heartbreaking, the story is ultimately uplifting, as Lucky accepts responsibility for himself, his family, and the other bullying victims he knows are out there, waiting for someone to speak up. Another winner from King, author of The Printz Honor Book Please Ignore Vera Dietz.--Hutley, Krista Copyright 2010 Booklist
From Booklist, Copyright © American Library Association. Used with permission.
Publishers Weekly Reality is a flexible thing in this offbeat and thought-provoking coming-of-age story from Printz Honor-winner King (Please Ignore Vera Dietz). Lucky Linderman, 15, has been the target of bullying by a classmate, Nader, and after a particularly brutal attack by him, Lucky leaves Pennsylvania for Arizona with his mother, who is fed up with her marriage. Staying with his uncle and pill-popping aunt is anything but a peaceful vacation, but when Lucky meets 17-year-old Ginny, a reluctant model, her strong will and courage make Lucky realize that it's time to stand up for himself. The gravity of the issues King addresses-bullying, marital difficulties, the lack of closure regarding Lucky's grandfather, an MIA soldier who has been gone for decades-are thrown into high relief by surreal elements interwoven throughout, most notably Lucky's dreams, which bleed into reality in intriguing ways as he attempts to rescue his grandfather and others, and a Greek chorus of ants Lucky sees, which adds welcome doses of humor and pathos. It's a smart, funny, and passionate novel that embodies the idea that "It Gets Better"-when you take action. Ages 15-up. (Oct.) (c) Copyright PWxyz, LLC. All rights reserved.
(c) Copyright PWxyz, LLC. All rights reserved
School Library Journal Gr 9 Up-Lucky Linderman has been tortured by Nader McMillan since they were seven, when Nader inexplicably peed on him in a restaurant bathroom. Now it's the summer before sophomore year, and ever since Lucky unintentionally got the bully in trouble with his social-studies survey about suicide, Nader's harassment has escalated. What's more, everyone thinks Lucky is serious about killing himself, and in addition to this and the bullying, his parents' marriage is falling apart. The only way Lucky can escape his life is through a touch of mysterious magic, in which he dreams of communicating with his grandfather, who has been MIA since the Vietnam War. In his dreams, Lucky is strong and fearless, ready to stop at nothing to rescue him. When Nader smashes him into the concrete at the community pool, crushing his face and pride, Lucky's mom flies them to Arizona to stay with her brother and his wife for a few weeks. During his time away Lucky learns that he is okay with being a "momma's boy," that he can't keep escaping his life in the jungle of his dreams. King's heartfelt tale easily blends realism and fantasy. Through a man he never met, Lucky learns he can stand up for himself and stop Nader from terrorizing him and other students. Some mild language and discussion of male and female anatomy are included, but they are within the realm of the story and necessary for these teens to sound real. A haunting but at times funny tale about what it means to want to take one's life, but rising above it so that living becomes the better option.-Lauren Newman, Northern Burlington County Regional Middle School, Columbus, NJ (c) Copyright 2011. Library Journals LLC, a wholly owned subsidiary of Media Source, Inc. No redistribution permitted.
(c) Copyright 2010. Library Journals LLC, a wholly owned subsidiary of Media Source, Inc. No redistribution permitted.