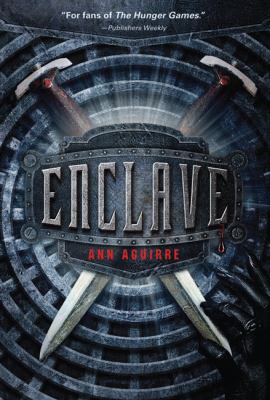 Enclave
by Aguirre, Ann


Publishers Weekly In this skilled though violent postapocalyptic thriller, Deuce has newly earned the rank of Huntress, after years of training have taught her to "wield a knife or a club with equal proficiency." It's her duty to provide meat for her loveless, draconian enclave, deep beneath the streets of a ruined city, as well as to defend it against cannibalistic Freaks, who are gradually eliminating the scattered human survivors of a vaguely remembered plague. Deuce's is a world of terrifying encounters in near-complete darkness, but she's very good at what she does. Then Deuce stands up for a friend unfairly accused of hoarding and, accompanied only by her talented but unpopular partner, Fade, is soon exiled with little chance of survival either in the lightless and dangerous sewers or Topside. In her first young adult novel, Aguirre (the Sirantha Jax series) has created a gritty and highly competent heroine, an equally deadly sidekick/love interest, and a fascinating if unpleasant civilization. This series is likely to hold considerable appeal for fans of The Hunger Games. Ages 12-up. (Apr.) (c) Copyright PWxyz, LLC. All rights reserved.
(c) Copyright PWxyz, LLC. All rights reserved
Book list Aguirre's young adult debut is a gripping survival story set in an apocalyptic future. At her naming ceremony, Deuce receives triple slashes on each arm, signifying her status as a Huntress, an elite warrior who protects their underground enclave. She is paired with Fade, a scarred, taciturn veteran who claims to have lived Topside and chafes under their exacting rules. When they find proof that the mutant Freaks who share the tunnels are banding together, they are exiled to silence their warnings. Forced Topside, the pair heads toward a settlement Fade has only heard stories about, picking up two others: Stalker, a violent gang leader, and Tegan, a brutally abused girl. This is a tense, action-packed dystopian story with intriguingly gray characters, much more thriller than romance although Aguirre teases at a future love triangle, it never intrudes. While the enclave's elders are initially presented as morally corrupt antagonists, Aguirre's gritty future is not so simple; like Deuce, readers must weigh the comparative values of law and freedom in a functioning society.--Hutley, Krista Copyright 2010 Booklist
From Booklist, Copyright © American Library Association. Used with permission.
School Library Journal Gr 8-10-Deuce gets her name when she is declared Huntress and protector of College, the enclave where the survivors of "the second holocaust" dwell. They live in abandoned subway tunnels, never venturing Topside; the stories of aboveground dangers are enough to keep everyone below. Deuce and her partner, the enigmatic Fade, bring news of the destruction of enclave Nassau by the mutant cannibal Freaks and are banished Topside for their trouble. Once there Deuce recognizes the treachery of the College enclave elders and must face the real dangers-and wonders-of a long-ruined New York City. Joined by vicious ganger Stalker and abused Breeder Tegan, the four young adults make their way North to fabled safety. While the pace is quick, the characterizations are flat, and without a personality on which to hang an empathetic hat, there is little to involve readers emotionally. Continuity problems and some contradictions in logic result in world-building that does not fare well under scrutiny: the inhabitants of College lack knowledge of their own environs and the people who dwell there despite constant patrolling and occasional trading; the gangs who take over the city never range beyond its boundaries, and no one in the finally reached safety of the aboveground enclave returns to the city, despite apparently frequent trade-runs elsewhere. The familiar tropes of postapocalyptic fiction get no new handling here, but those looking for a "Hunger Games" read-alike might be willing to accept this lukewarm offering.-Janice M. Del Negro, GSLIS Dominican University, River Forest, IL (c) Copyright 2011. Library Journals LLC, a wholly owned subsidiary of Media Source, Inc. No redistribution permitted.
(c) Copyright 2010. Library Journals LLC, a wholly owned subsidiary of Media Source, Inc. No redistribution permitted.