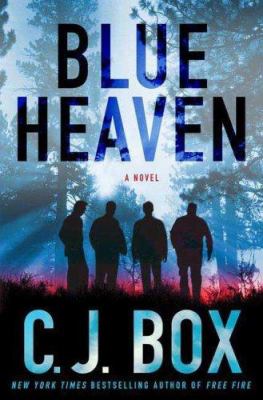 Blue heaven
by C.J. Box.


Library Journal Having witnessed a murder, 12-year-old Annie and her brother run for their lives to escape killers and dirty cops in the town of Blue Heaven. A break-out effort by the author of the Joe Pickett series; Box lives in Cheyenne, WY. 15-city author tour. Copyright 2007 Reed Business Information.
Copyright © Reed Business Information, a division of Reed Elsevier Inc. All rights reserved.
Publishers Weekly At the start of this overly complicated thriller from bestseller Box, his first stand-alone, siblings Annie and William Taylor, ages 12 and 10, witness a gruesome murder in the woods outside the small Idaho town of Kootenai Bay, nicknamed "Blue Heaven" for its abundance of retired LAPD officers. Annie and William make a run for it after they're spotted by the killers, a group of crooked LAPD cops who retired to Idaho eight years earlier after pulling a complicated heist in California that left a man dead. Rancher Jess Rawlins becomes the children's only hope of survival after they take refuge in his barn. Jess must stay one step ahead of the killers, who have volunteered to "help" the local authorities investigate the children's disappearance. Annie and William's mother is frantic, as the scheming officers try to persuade her the children are gone for good. A subplot involving a retired California detective pursuing the original robbery case adds too many extra characters and undercuts the suspense. Readers expecting the same brisk story lines as the author's Joe Pickett crime novels (Free Fire, etc.) will be disappointed. 100,000 first printing; author tour. (Jan.) Copyright 2007 Reed Business Information.
Copyright © Reed Business Information, a division of Reed Elsevier Inc. All rights reserved.
Book list *Starred Review* Taking a break from his terrific Joe Pickett series (Free Fire, 2007), Box offers a stand-alone thriller set in north Idaho, a region called Blue Heaven by the many California cops who have retired there. When two kids witness a campground execution, they have no way of knowing the killers are ex-cops they just know they have to get away. But when the first man who offers them help turns out to be another bad guy, the kids decide they can't trust anyone. Their disappearance triggers a manhunt, and when the killers volunteer their services to the beleaguered local sheriff, he puts them in charge. Box deftly juggles a compressed time line and a large cast of characters that includes a good ex-cop who has followed the killers from California, the kids' single mom, a banker with a bad conscience, and a grizzled rancher who becomes the kids' protector. In some ways, this isn't that different from a Pickett novel: set against a New West issue (rampant development), it features likably flawed good guys (the good cop grapples with fear) and springs the noble western archetypes at just the right moment to have us cheering (you just knew the rancher would saddle up his horse). So does this stand-alone stand on its own two feet? Hell, yes. If it's a bit less introspective than a Pickett, it's a bit more of a page-turner. And Box builds suspense so brilliantly that Blue Heaven could serve as a textbook of how to do it.--Graff, Keir Copyright 2007 Booklist
From Booklist, Copyright © American Library Association. Used with permission.
Library Journal Two young kids witness a backwoods execution-style murder in their rural Idaho hamlet. Worse yet, the killers--four retired cops from Los Angeles--see the children and begin a dogged pursuit. Struggling rancher Jess Rawlins is surprised to find Annie and William hiding in his barn, but he's wise enough to believe their lurid tale. He also astutely recognizes the goodness of a stranger in town: Eduardo Villatoro, a retired detective, is determined to put one last unsolved case--a big one--to rest. Villatoro's case is the final nail in the coffin for these bad cops, and it's up to Jess and him to save the children. Readers will be anticipating the final shootout long before the bad guys catch on. Popular series author Box's (Free Fire) first venture into stand-alone territory is a quick, satisfying, and straightforward--if fairly transparent--read. It should appeal to readers looking for a contemporary Western with an infusion of thriller; Michael McGarrity's books come to mind. Recommended for larger popular collections. [See Prepub Mystery, LJ 9/1/07.]--Teresa L. Jacobsen, Solano Cty. Lib., Fairfield, CA Copyright 2008 Reed Business Information.
Copyright © Reed Business Information, a division of Reed Elsevier Inc. All rights reserved.