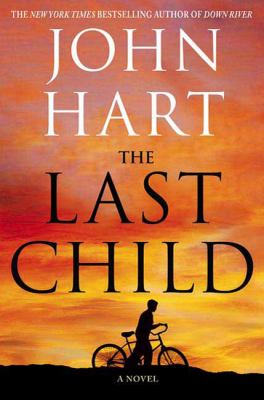 The Last Child
by John Hart


Publishers Weekly A year after 12-year-old Alyssa Merrimon disappeared on her way home from the library in an unnamed rural North Carolina town, her twin brother, Johnny, continues to search the town, street by street, even visiting the homes of known sex offenders, in this chilling novel from Edgar-winner Hart (Down River). Det. Clyde Hunt, the lead cop on Alyssa's case, keeps a watchful eye on Johnny and his mother, who has deteriorated since Alyssa's abduction and her husband's departure soon afterward. When a second girl is snatched, Johnny is even more determined to find his sister, convinced that the perpetrator is the same person who took Alyssa. But what he unearths is more sinister than anyone imagined, sending shock waves through the community and putting Johnny's own life in danger. Despite a tendency to dip into melodrama, Hart spins an impressively layered tale of broken families and secrets that can kill. 175,000 first printing; author tour. (May) Copyright 2009 Reed Business Information.
(c) Copyright PWxyz, LLC. All rights reserved
School Library Journal Adult/High School-Thirteen-year-old Johnny searches for his twin sister who disappeared a year earlier while also mourning the loss of his guilt-ridden father and trying to cope with his mother's abusive boyfriend. Parallel to the rapidly unfolding events is an intriguing and adrenaline-rich mystery that unfolds through Clyde Hunt, lead police detective in Johnny's North Carolina town. Hart develops both characters fully and credibly and brings to life a cast of supporting actors that includes Johnny's depressed and drugged mother and his best friend. The climate and history of the place offer both clues and a well-delineated setting for the plot, giving readers a "you are there" sensibility and an appreciation for how the past creates the present in both evil and good ways. Hart's writing is rich and flowing. Teens looking for adventure, and a story in which a kid shows himself to be smarter than most of the adults around him, will find this novel wholly satisfying.-Francisca Goldsmith, Halifax Public Libraries, Nova Scotia Copyright 2009 Reed Business Information.
(c) Copyright 2010. Library Journals LLC, a wholly owned subsidiary of Media Source, Inc. No redistribution permitted.
Library Journal When 12-year-old Alyssa Merrimon disappeared a year ago, her family fell apart. Her twin brother, Johnny, became obsessed with trying to find her, their father took off, not to be heard from again, and their mother sank into a world of drugs and booze, helped along by an abusive, wealthy boyfriend. Det. Clive Hunt is also obsessed, both with finding Alyssa and with her mother, and his preoccupation costs him his marriage and jeopardizes his job. But this is Johnny's story and his quest to find the sister he lost. Taking his mother's car while she's passed out and occasionally taking along his best friend, Jack, Johnny spies and keeps meticulous records on the townsfolk of small Raven County, NC. The world is a dark place when seen through his eyes, and Johnny is an unforgettable character in this finely drawn yet disturbing thriller. With his best novel yet, the Edgar Award-winning Hart (Down River) firmly cements his place alongside the greats of the genre. Highly recommended for all public libraries. [175,000-copy first printing; library marketing.]-Stacy Alesi, Palm Beach Cty. Lib. Syst., Boca Raton, FL Copyright 2009 Reed Business Information.
(c) Copyright 2010. Library Journals LLC, a wholly owned subsidiary of Media Source, Inc. No redistribution permitted.
Book list *Starred Review* Not that we needed any further proof, after the superb King of Lies (2008) and Down River (2007), but Hart once again demonstrates that he is a remarkable storyteller. Somebody has abducted Johnny Merrimon's twin sister, Alyssa. Thirteen-year-old Johnny hasn't been able to let her go, and even now, a year later, he is still scouring his North Carolina town, looking in every dark place, in the belief that his sister may still be alive and close by. Keeping an eye on Johnny, while fighting his own personal demons, is Clyde Hunt, the police detective who's spent the last year working the case, even as his marriage and career have crumbled around him. When they discover the truth, they find that it's something darker and more frightening than either of them could have imagined. Hart once again produces a novel that is elegant, haunting, and memorable. His characters are given an emotional depth that genre characters seldom have, and the graceful, evocative prose lifts his stories right out of their genre and into the realm of capital-L literature. A must-read for every variety of fiction reader.--Pitt, David Copyright 2009 Booklist
From Booklist, Copyright © American Library Association. Used with permission.