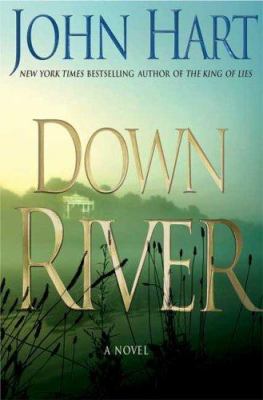 Down River
by John Hart


Publishers Weekly Hart surpasses his bestselling debut, The King of Lies (2006), with his richly atmospheric second novel, which offers a tighter plot, more adroit pacing and less angst. Five years earlier, Adam Chase was arrested for murder, largely on the basis of his stepmother's sworn testimony against him. He was acquitted, but nearly everyone, including his father, still thinks he did it, and Adam's deep bitterness has kept him away from home ever since. Now, at the request of a childhood friend, he's back in Salisbury, N.C., where all the old demons still reside and new troubles await. The almost Shakespearean snarl of family ties is complicated by a very modern struggle between economic progress and love for the land, between haves and have-nots. Throughout, Hart expertly weaves his main theme: that by their freedom of choice, humans are capable of betrayal but also of forgiveness and redemption. This book should settle once and for all the question of whether thrillers and mysteries can also be literature. 150,000 first printing; 15-city author tour. (Oct.) Copyright 2007 Reed Business Information.
Copyright © Reed Business Information, a division of Reed Elsevier Inc. All rights reserved.
Library Journal Because of his violent past, Adam Harston becomes the prime suspect when people start turning up dead in his small North Carolina hometown. Hart (The King of Lies) lives in North Carolina. National tour. Copyright 2007 Reed Business Information.
Copyright © Reed Business Information, a division of Reed Elsevier Inc. All rights reserved.
Book list "*Starred Review* King of Lies (2006), Hart's debut, was gripping and stylishly written, but it pales in comparison to this complex, emotionally charged novel. Adam Chase returns home to small-town North Carolina after five years living in New York City. He left his hometown or, in fact, was run out of town after he was acquitted of murder. He has returned home because his family is there and because everyone he has ever loved is there. But when his oldest friend goes missing, and Adam is beaten to a pulp by his friend's father's stooges, he begins to regret his decision. As he tries to reconnect with family and friends, Adam learns that some people he's known all his life are hiding dark secrets and that the truth surrounding the murder he was accused of five years ago is more frightening and closer to home than he could have imagined. Down River is a beautifully constructed story of personal redemption, family secrets, and murder a small-town epic, if there is such a thing. Hart dexterously juggles a large cast of characters and several intricate plotlines, and when he starts to tie together the threads of the various stories well, that's when the real magic begins. A truly splendid novel with a deep emotional core."--"Pitt, David" Copyright 2007 Booklist
From Booklist, Copyright © American Library Association. Used with permission.
Library Journal Hart's sophomore effort surpasses his debut, the multi-award-nominated King of Lies. A small North Carolina town is torn apart when a power company wants to buy up all the farmland on the river; some residents cling to their bucolic way of life, while others see only dollar signs. Adam Chase's family has owned the largest parcel in the area for centuries, and his father has no desire to sell. But tempers flare, and soon a young woman is severely beaten, a body is found on the Chase farm, and Adam is the chief suspect. Newly arrived after five years away, Adam is the town pariah. His stepmother had accused him of murdering a family friend, and while the court acquitted him, his family and friends did not. While time has softened some, others seem ready to unleash their stored-up anger. This work is reminiscent of Raymond Chandler's novels, hard-boiled and rich with evocative metaphors. Complex relationships blur the lines between friend and foe, heightening the suspense in this intricate, haunting story of a family in crisis, and the writing is simply superb. Highly recommended for all fiction collections. [See Mystery Prepub Alert, LJ 6/1/07.]-Stacy Alesi, Boca Raton, FL Copyright 2007 Reed Business Information.
Copyright © Reed Business Information, a division of Reed Elsevier Inc. All rights reserved.