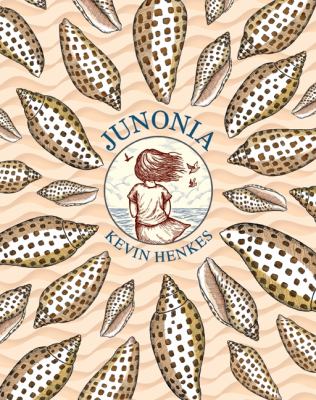 Junonia
by Kevin Henkes


Publishers Weekly In this introspective story about a child's search for a rare shell, Henkes (Bird Lake Moon) again displays his ability to find profound meaning in ordinary events. Every year Alice Rice and her parents take a trip to Florida's Sanibel Island, but this year things are different. Some of the people Alice is looking forward to seeing are missing, and the neighboring cabin usually rented to a fun artist from New York is now occupied by a friend of Alice's mother, her new boyfriend, and his moody and disruptive six-year-old daughter. Swallowing her disappointment, Alice still believes that her vacation will be a success if only she can find the rare shell she most covets, the junonia ("After all, she was going to be ten. Finding a junonia would be the perfect gift"). Like her disappointments, Alice's discoveries aren't what she expects, but her understanding of people-both old friends and new acquaintances-deepens during the process. Readers will empathize with Alice's frustrations and relish her moments of joy. Images of the beach and the moving, meaningful interactions between characters will linger with readers. Ages 8-12. (June) (c) Copyright PWxyz, LLC. All rights reserved.
(c) Copyright PWxyz, LLC. All rights reserved
School Library Journal Gr 4-5-Alice Rice and her parents spend every February vacation on Sanibel Island, FL. But this year things are different: some of their friends cannot be there, and her mother's college friend Kate is coming with her new boyfriend, Ted, and his six-year-old daughter, Mallory. Trying to make the best of things, Alice is determined to do her usual shell-gathering, hoping this time to find a rare junonia shell, but Mallory disturbs her hoped-for idyll with her tantrums and clinginess. When a phone call from her mother, who has left her to live in France, causes the child to make a scene at Alice's 10th-birthday celebration, Kate and Ted decide to take her home. Alice, who has grown in understanding and empathy for Mallory, must also learn to deal with change and disappointment when she realizes that the junonia shell she finds on the beach was really purchased and placed there by a well-meaning neighbor. As in his previous novels, Henkes's omniscient narrator lends an air of detachment to the telling, even as he describes the action and Alice's feelings. Secondary characters are lightly drawn, descriptions of the island setting are lyrical, and the conflict is gentle, features that will appeal to some readers. Details of shell collecting, a two-page visual guide to shells mentioned in the book, and chapter heading sketches also add interest to this quiet, interior novel.-Marie Orlando, formerly at Suffolk Cooperative Library System, Bellport, NY (c) Copyright 2011. Library Journals LLC, a wholly owned subsidiary of Media Source, Inc. No redistribution permitted.
(c) Copyright 2010. Library Journals LLC, a wholly owned subsidiary of Media Source, Inc. No redistribution permitted.
Book list *Starred Review* Every year in February, Alice and her parents spend the week of her birthday on Sanibel Island, far from the Wisconsin winter. An only child, Alice revels in her family's comfortable traditions and routines, especially on Sanibel, where they visit the same grown-up friends, stay in the same cottage, and hunt for the same, elusive junonia shell. This year, though, Alice is turning 10, and her entry into double digits isn't the only change on the Florida horizon. A child raised among adults, Alice is mature and acquiescent yet comfortable enough in her childhood to resist the approach of adolescence. Henkes offers a quiet evocation of the simple jealousies and generosities of childhood, as Alice struggles to relinquish her position as perennial darling and try on the mantle of independence. Charming spot illustrations, many featuring beach motifs, begin each short chapter, adding to the palpable seaside atmosphere. The problems Alice faces are never more serious than the absence of a regular family friend or the presence of a tantrum-prone newcomer, but they are still deeply resonant. With tender observations and sensory details, Henkes creates a memorable young individual whose arcadian growing up is authentic and pitch-perfect.--Barthelmess, Thom Copyright 2010 Booklist
From Booklist, Copyright © American Library Association. Used with permission.