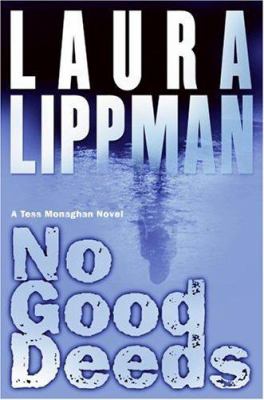 No Good Deeds
by Laura Lippman


Library Journal Following on the heels of Lippman's haunting standalone To the Power of Three, Tess Monaghan is back in this ninth entry of the award-winning series. An assistant U.S. attorney is found stabbed to death in the car of a young homeless man, Lloyd, whom Tess meets after her soft-hearted boyfriend, Crow, brings him home on a cold Baltimore night. But Lloyd may know something about the murder. Tess gives the story to her old newspaper with the understanding that they won't reveal her source-they don't, but they do report that Tess leaked the story. Lloyd goes into hiding with Crow, but a very persistent triumvirate of law enforcement-an FBI agent, a DEA agent, and another assistant U.S. attorney-pursues Tess to identify and reveal the whereabouts of her source. Things get really sticky until the highly satisfying and surprising ending. Strongly recommended for all libraries. [See Prepub Alert, LJ 3/15/06.]-Stacy Alesi, Southwest Cty. Regional Lib., Palm Beach Cty. Lib. Syst., Boca Raton, FL Copyright 2006 Reed Business Information.
Copyright © Reed Business Information, a division of Reed Elsevier Inc. All rights reserved.
Book list In Tess Monaghan's ninth outing, an impulse to do good leads to murder. When Crow Ransome, Tess' live-in boyfriend, catches 16-year-old Lloyd Jupiter running a tire scam on his car, he takes him home to ensure he has a place to sleep for the night. By accident, Tess discovers their reluctant guest has some intriguing information about the high-profile murder of a federal prosecutor. When Tess turns the information over to the papers, she's assured her source will be anonymous; not so Tess herself, however, and it isn't long before an aggressive assistant U.S. district attorney and two burly federal cops are knocking on her door. To protect the boy, Crow takes Lloyd away, leaving Tess to decide if increasing pressure from federal investigators is worth protecting a kid with a dubious sense of right and wrong. Lippman lets each character contribute a piece to the whole, which makes the story richer, and there's some nail-biting suspense as Tess faces off against what she thinks are the big guns of government. --Stephanie Zvirin Copyright 2006 Booklist
From Booklist, Copyright © American Library Association. Used with permission.
Publishers Weekly Smartly plotted and paced, Lippman's ninth Tess Monaghan novel (after By a Spider's Thread) opens with a somewhat unlikely scenario: Tess's boyfriend, Edgar "Crow" Ransome, brings home for the night a homeless teenager, Lloyd, who slashed Crow's tires outside a Baltimore soup kitchen. When PI Tess discovers that Lloyd has information regarding the recent murder of Assistant U.S. Attorney Gregory Youssef, Tess gives his story, sans name, to the local paper, so the authorities will get it secondhand. After a crony of Lloyd's is murdered instead of Lloyd, Tess receives her first visit from a sinister trio of law enforcement agents avid to know her source. Crow flees with Lloyd while Tess suffers growing pressure, including the threat of federal jail time. Baltimore itself is the book's most compelling character, its uneasy mix of aspiration and decay perfectly suited to Lippman's ironic voice. Crow is the book's weakest link; even a late revelation about his motives fails to make his sudden paternalism toward Lloyd believable. Happily, Lippman's loyal fans won't mind. Author tour. (July) Copyright 2006 Reed Business Information.
Copyright © Reed Business Information, a division of Reed Elsevier Inc. All rights reserved.