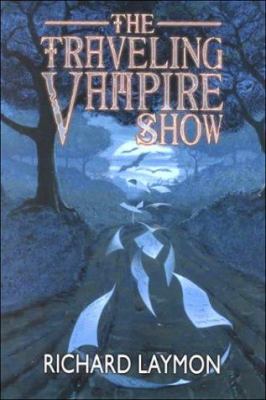 The Traveling Vampire Show
by Richard Laymon


Publishers Weekly Like the vampire he celebrates so often (Stake, etc.), this talented writer's career, once dead in the States though not overseas, has risen anew--thanks largely to Cemetery Dance, which has issued his work (Cuts; Come Out Tonight; etc.) even as no mainstream American hardcover publisher would touch it. The author's fall after his successful run in the 1980s was due to several factors, including his writerly predilection toward excess sex and violence. Here, Laymon takes those elements in hand, not so much abjuring them as putting them to artful use as he tells a wickedly involving story of three 16-year-olds and their life-changing encounter with the road show of the title. It's hot August 1963 when narrator Dwight, along with his pals--overweight Rusty and pretty (female) Slim--note flyers for the Traveling Vampire Show, featuring a purported real vampire, Valeria. Intrigued, the trio sneak onto the backwoods site of the show and there tangle with a vicious dog; after the others leave, Slim watches the spooky show troupe spear the mongrel to death. This, plus a long buildup to the show (spinning on whether troupe members are after the teens) forms most of the long narrative. Unusual for Laymon, the emphasis is on atmosphere rather than action, and he sustains a note of anticipatory dread throughout, made particularly resonant through his expert handling of the social, particularly sexual, tensions among the three teens. The novel's climax is the show itself, and here Laymon lets out the stops in typically ferocious fashion. In its understanding of the sufferings and ecstasies of youth, the novel carries some of the wisdom of King's The Body or Robert R. McCammon's Boy's Life, but the book, Laymon's best in years, belongs wholly to this too-neglected author, who with his trademark squeaky-clean yet sensual prose, high narrative drive and pitch-dark sense of humor has crafted a horror tale that's not only emotionally true but also scary and, above all, fun. (May) Copyright 2000 Cahners Business Information.
Copyright © Reed Business Information, a division of Reed Elsevier Inc. All rights reserved.
Library Journal In the latest novel from Laymon (The Midnight Tour), 16-year-old Dwight and his two pals, male Rusty and female Slim, decide to add some excitement to an otherwise boring summer day in 1963 by sneaking into "The Traveling Vampire Show." This adults-only act, featuring "Valeria, the only known vampire in captivity," is visiting their rural town of Grandville for just one night. Dwight narrates the events of that day, all the way through to the terrifying finale. The three friends are for the most part typical teens, but they are tested that day in ways none of them could ever have imagined. Although the protagonists are high school age, this novel is so replete with graphic sexual situations and violence that it would not be suitable for young adult collections. It is, however, a well-written story that will appeal to fans of horror fiction. Recommended for large public libraries.DPatricia Altner, Information Seekers, Bowie, MD Copyright 2000 Cahners Business Information.
Copyright © Reed Business Information, a division of Reed Elsevier Inc. All rights reserved.