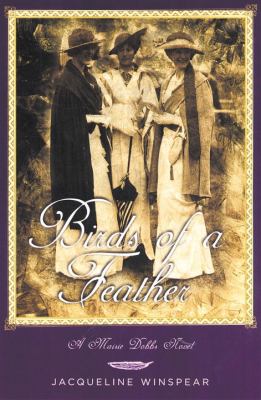 Birds of a Feather
by Jacqueline Winspear


Book list Sinking into a novel this good is as satisfying as sinking into a good leather chair: we know we are in for the duration, and it feels right. Although alert readers will probably tease out the murderer about halfway through, the journey is worth it, for we are in the company of Maisie Dobbs, a P.I. who bears the scars of service as a nurse in the Great War. When the owner of a chain of London food halls hires her to find his daughter, Maisie is intrigued as Charlotte Waite is in her thirties and has run away before. Then several women with ties to Charlotte are murdered--morphine and a bayonet to the heart. Maisie teases this all out while practicing both the careful observance and interior meditation her mentor has taught her. Maisie, who has gone from being in service to a graduate of Girton at Cambridge, is as intelligent and engaging a sleuth as one might desire: the period touches, from clothing to manners, are not only elegantly presented but unostentatious. --GraceAnne DeCandido Copyright 2004 Booklist
From Booklist, Copyright © American Library Association. Used with permission.
Publishers Weekly The eponymous heroine of Winspear's promising debut, Maisie Dobbs (2003), continues to beguile in this chilling, suspenseful sequel set in England a decade after the end of the Great War. Maisie, "Psychologist and Investigator," as the brass nameplate on her office door declares, gets hired by a wealthy industrialist to find his only daughter, Charlotte Waite, who has gone missing. With the help of her cockney assistant, Billy Beale, Maisie sets out to learn all she can of Charlotte's habits, character and friends. No sooner has Maisie discovered the identities of three of these friends than they start turning up dead-poisoned, then bayoneted for good measure. At each crime scene is left a white feather. Increasingly preoccupied with these tragedies, Maisie almost loses sight of her original mission, until it becomes apparent that the murders and Charlotte's disappearance are related. As in her first novel, the author gives an intelligent and absorbing picture of the period, providing plentiful details for the history buff without detracting from the riveting mystery. Readers will be eager to see more of the spunky Maisie, with her unusual career as a one-time maid, nurse and university student. Agent, Amy Rennert. (June 15) Forecast: A Top Ten Book Sense 76 pick for 2003, Maisie Dobbs has been nominated for both Agatha and Edgar awards. A win of either of these in late May, followed by a national author tour, will help propel sales of Birds of a Feather. Copyright 2004 Reed Business Information.
Copyright © Reed Business Information, a division of Reed Elsevier Inc. All rights reserved.
Library Journal In this follow-up to Winspear's Edgar Award-nominated Maisie Dobbs, her most unusual P.I. has been hired to find the missing daughter of a wealthy London magnate. As Maisie and her Cockney assistant, Billy Beale, try to track Charlotte Waite down, they discover that three of her old friends have been murdered-poisoned and then bayoneted. Did Charlotte run away to escape an overbearing father, or did she flee out of fear? Are the crimes connected to the Great War? Unlike the first book, which was a fascinating portrait of a young woman moving from servitude to independence, this is more a traditional mystery ? la Dorothy Sayers. But Winspear doesn't stint on the intriguing historical and social details that made her debut so compelling. She deftly captures Maisie's Upstairs, Downstairs dilemma of living in a class-ridden society: the former housemaid still feels "like a citizen of two countries, neither here nor there, but always somewhere in the middle." Strongly recommended for most mystery collections.-Wilda Williams, Library Journal Copyright 2004 Reed Business Information.
Copyright © Reed Business Information, a division of Reed Elsevier Inc. All rights reserved.
School Library Journal Adult/High School-The spirited heroine of Maisie Dobbs (Soho, 2003) is back to solve another puzzle in post-World War I London. Having been trained by a master detective, the former serving girl now a Cambridge graduate is hired by grocery magnate Joseph Waite to find his wayward daughter, Charlotte. What begins as a simple missing-person case evolves into the investigation of three murders, all of young women who were friends during the war. Charlotte may be the next target. Chock-full of period details such as how to start a 1920s-era MG, what to buy at the grocer's, what to wear in the country, soup kitchens, and heroin use, the novel follows Maisie's progress as she uses detection, psychology, and even yogalike centering to clear her mind. There is much substance to this mystery, which mines the situations brought about by the horrors of the war-both on the front and at home, and its still simmering aftermath-plus a hint of romance and the beginning resolution of two father-daughter rifts. The story flows easily, descriptions are vivid and apt, and character is limned quickly, with each an individual. This is an utterly enjoyable and painless history lesson and a well-plotted and consistent mystery that will appeal to teens looking for more than just historical fiction.-Susan H. Woodcock, Fairfax County Public Library, Chantilly, VA Copyright 2004 Reed Business Information.
Copyright © Reed Business Information, a division of Reed Elsevier Inc. All rights reserved.