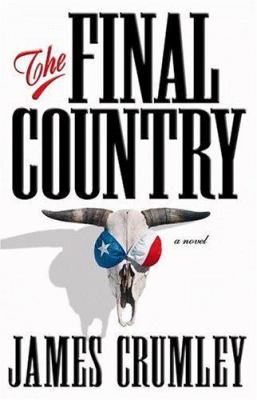 The Final Country
by James Crumley


Library Journal Even Crumley's reliably sharp writing can't save this novel from its unlikable hero and convoluted plot. P.I. Milo Milodragovitch (Bordersnakes), usually a self-centered and reckless type, spends the entire novel trying to save a fugitive from being unfairly treated by the Texas justice system. Throughout, Crumley provides a steady stream of fighting, dull conversation, and shady but colorless characters. Milo's vices certainly make him a distinctive character in P.I. fiction, but they also make him difficult to care about. Not only is his sex-and-drug lifestyle unbelievable but it quickly becomes monotonous. This is certainly not one of Crumley's better efforts. Still, his wit, his descriptions of the Texas landscape, and the prose in general an excellent example of classic hard-boiled fiction make it worth consideration by public libraries. [Previewed in Prepub Alert, LJ 6/15/01.] Craig L. Shufelt, Lane P.L., Fairfield, OH Copyright 2001 Cahners Business Information.
Copyright © Reed Business Information, a division of Reed Elsevier Inc. All rights reserved.
Library Journal In his first case since the national best seller Bordersnakes, Milo Milodragovitch investigates the rape and murder of his new lady love's sister. Copyright 2001 Cahners Business Information.
Copyright © Reed Business Information, a division of Reed Elsevier Inc. All rights reserved.
Book list Milo Milodragovitch just won't go gently into that good night. After helping out his pal C. G. Sughrue in Bordersnakes (1996), Milo stayed on in Texas, forsaking his native Montana for the arms of the enigmatic Betty. But those arms have grown cold ("A man can make a happy woman sad, but he can't finally make a sad woman happy"), and Milo is left to amuse himself tracking bail jumpers and running a bar. Then he tangles with a tall black man who has just killed a drug dealer, and soon enough he's landed in the middle of another dope-and-booze-fueled adventure, following leads to nowhere and slipping ever deeper into the quicksand of a Chandleresque plot that makes less sense with every clue. Along the way, he's duped by a femme fatale, survives a gunfight on a golf course, and sets traps for a serial killer and a few corrupt politicians--all the while ingesting prodigious quantities of codeine, cocaine, and vodka. Unlike Bordersnakes, which celebrated two world-weary but still ornery roughnecks on their last hurrah, this time the tone is more melancholy, an elegy written in a decidedly minor key. It isn't just that the years are taking their toll on Milo, although, God knows, they are; it's also that Milo is finding the world less and less congenial. If the Matthew Arnold of "Dover Beach" had written a crime novel, it might read a lot like this one. Some of Crumley's fans might find the aging Milo a bit morose, like listening to Hank Williams sing "I'm So Lonesome I Could Cry" over and over; others will eagerly turn up the volume and pour another drink. --Bill Ott
From Booklist, Copyright © American Library Association. Used with permission.
Publishers Weekly PI Milo Milodragovich turns a very hammered 60 years old in this energetic, poetic, violent and extremely funny ride, which comes within a belly laugh or two of equaling Crumley's absolute masterpiece, The Last Good Kiss (1978). "The rumors of my near demise haven't been exaggerated," Milo says, "but unfortunately for my enemies, I'm not dead yet." After finally collecting his long-deferred family inheritance (plus a huge cache of loot from the bad guys) in Bordersnakes (1996), the author's previous novel, he seems ready to settle down in Texas, the state with "more handguns than cows." He has a woman he may love, and now owns a bar. Milo, however, just can't let go of investigative work. As he tracks down a wandering wife whose implants have made her the pool-playing terror of many roadhouse, he is on the scene as a gigantic black man named Enos Walker tears into a dive and kills a drug dealer. When Milo asks a couple of questions about Walker, bullets start coming his way, sending him on a cocaine-and alcohol fueled trip for answers that may be 20 years old, hidden behind deception and sex and death, going from Texas to Las Vegas and Montana. Plot twists and details seem loose and easy, yet every thread is sewn tight as a hardball. This is a brilliant achievement, with Crumley returned to his full powers, seeming to say with each assured sentence, Yeah, I'm an old dog, but I still wag the baddest bone. (Oct. 23). Copyright 2001 Cahners Business Information.
Copyright © Reed Business Information, a division of Reed Elsevier Inc. All rights reserved.