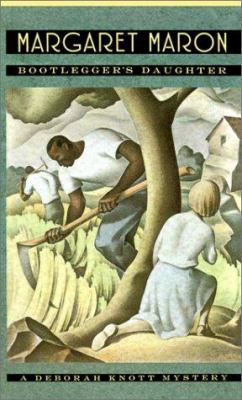 Bootleggers Daughter
by Margaret Maron


Publishers Weekly Maron's ( Past Imperfect ) series launch introduces attorney Deborah Knott, the daughter of an infamous North Carolina bootlegger, in an atmospheric adventure mixing Southern politics and a mysterious killing`unsolved murder' in next sentence . While Deb campaigns for a district court judgeship, 18-year-old Gayle Whitehead asks her to investigate the unsolved murder of her mother, Janie, which took place when Gayle was an infant. The girl wants Deb, who knows the locals of Cotton Grove, to ask around and see if she can find clues the police might have missed. Deb visits Michael Vickery, the gay son of Cotton Grove's retired doctor and owner of the property where Janie's body was found. She discovers long-kept secrets, learning that Janie had a roving eye and that a lesbian friend and her lover had made overtures to Janie a week before the murder.sentence ok?see my revisions yes, fine But not until another death occurs does Deb begin to close in on the truth. Filled with good-ole-boy patter and detailed local color, the story flows smoothly, and if it lacks suspense, Maron's appealing characterizations and her knowing eye for family relationships more than compensate. Mystery Guild alternate; author tour. (May)
Copyright © Reed Business Information, a division of Reed Elsevier Inc. All rights reserved.
Book list Old crimes and old criminals are the legacy of a small town in North Carolina. For lawyer and aspiring judge Deborah Knott, it is the reputation of her reprobate father that she must live down, and for Gayle Whitehead, it is the memory of her mother's unsolved murder 20 years ago that haunts the present (as an infant, she was the one who discovered the body). Whitehead chooses Knott for the investigation, and Knott, already battling a formidable battalion of good ol' boys in the upcoming election, reluctantly agrees to look into the old murder. For the reader, Knott turns out to be an interesting and spunky new sleuth, every bit the bare-knuckle fighter her infamous old man was--though she, of course, is on the the right side of the law. Maron isn't completely successful in splicing her two plots together: when Knott gets political the crime factor abruptly nosedives, and vice versa. But the evocation of place is detailed, spirited, and by and large feels right on the money. Loose talk in a bar. Loose morals in a law-office partner. And a killer hiding in plain sight. ~--Peter Robertson
From Booklist, Copyright © American Library Association. Used with permission.