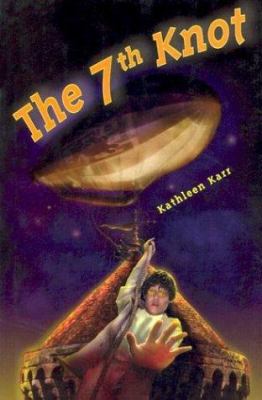 The 7th Knot
by Kathleen Karr


Book list Gr. 6-9. Karr offers an offbeat turn-of-the-last-century novel that dances on the edge of the fantastical. Fifteen-year-old Wick, who has already developed a taste for gambling and cigars, and his 12-year-old brother, Miles, a budding scientific genius, are banished by their mother to a European grand tour with their uncle Eustace. The boys do not find Uncle Eustace's pursuit of art, particularly the woodcuts of Durer, particularly engaging, but their uncle's scholarly and mysterious valet soon changes their minds. When he vanishes, the boys give chase, and their escapades take them across Europe to Mad Ludwig's remarkable castle, to a wild journey in a hot-air balloon, to entanglement in a secret society that hints of Germany's future Aryan obsession. Durer's knot woodcuts (hence the title) and the secret society add weight to the adventures, which combine delightful elements of Indiana Jones, Around the World in 80 Days, and P. G. Wodehouse's Bertie Wooster stories. A good, fast read that leaves the door open for sequels. --GraceAnne DeCandido Copyright 2003 Booklist
From Booklist, Copyright © American Library Association. Used with permission.
School Library Journal Gr 7-9-In this historical mystery, brothers Wick and Miles are sent to spend the summer with their rich Uncle Eustace, an 1890s robber baron touring Europe to purchase "High Art." After Eustace's mysterious valet, Jose Gregorio, is kidnapped, the brothers follow his trail and become involved with the Durerbund, a nationalistic secret society that honors painter Albrecht Durer. In a series of adventures involving dungeons, explosions, airships, and secret rooms, the brothers are reunited with Jose, and they race across Europe to stop the Durerbund before its plans to conquer Europe come to fruition. The action-filled, fast-paced plot and maturing of the boys from delinquents into heroes-and their interest in nude paintings-will appeal to a wide audience. While background characters remain caricatures, Wick, Miles, and Jose are fully human and entertaining. Karr smoothly integrates information about Durer and other painters into the plot, and she uses the historical Durerbund, with its shades of Nazism, to good effect. The well-crafted plot and nonstop action will catch readers' attention from the first chapter and lead them to the satisfying conclusion, and they may even be motivated to look at an art book or two.-Beth L. Meister, Yeshiva of Central Queens, Flushing, NY Copyright 2003 Reed Business Information.
Copyright © Reed Business Information, a division of Reed Elsevier Inc. All rights reserved.