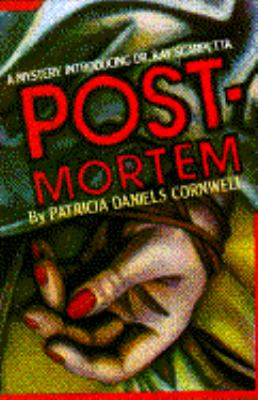 Postmortem
by Patricia Cornwell


Book list Young women with little in common are being tortured and strangled in Richmond, Virginia. Medical examiner Kay Scarpetta is at the center of the perplexing case, struggling to find the killer, recover vital information stolen from her office computer, and deal with the cops' growing conviction that her lover might just be the murderer. The story begins with a thumbnail sketch of Scarpetta and a dazzling if somewhat deadening display of forensic detail. Later, first-novelist Cornwell's plot kicks in with a vengeance. She not only introduces the traditional coarse yet likable cop, but also unveils several fascinating clues, which involve a rare disease that shows up in DNA testing, an aroma that seems to cling to the assassin, and, most tantalizing of all, a wrong telephone number. The eventual solution is a masterpiece of the unexpected. Hard going for the first 100 or so pages and a breathless rush for the last 150. --Peter Robertson
From Booklist, Copyright © American Library Association. Used with permission.
Publishers Weekly Cornwell, a former reporter who has worked in a medical examiner's office, sets her first mystery in Richmond, Va. Chief medical officer for the commonwealth of Virginia, Dr. Kay Scarpetta, the narrator, dwells on her efforts to identify ``Mr. Nobody,'' the strangler of young women. The doctor devotes days and nights to gathering computer data and forensic clues to the killer, although she's hampered by male officials anxious to prove themselves superior to a woman. Predictably, Scarpetta's toil pays off, but not before the strangler attacks her; a reformed male chauvinist, conveniently nearby, saves her. Although readers may be naturally disposed to admire Scarpetta and find the novel's scientific aspect interesting, they are likely to be put off by her self-aggrandizement and interminable complaints, annoying flaws in an otherwise promising debut. (Jan.)
Copyright © Reed Business Information, a division of Reed Elsevier Inc. All rights reserved.