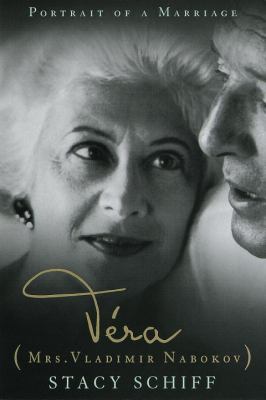 Vera (Mrs. Vladimir Nabokov)
by Stacy Schiff


Publishers Weekly V?ra Nabokov was not only devoted to her husband's literary career; she was crucial to it. Schiff (Saint-Exup?ry) contends that Nabokov's public image was V?ra's doing: "we are used to husbands silencing wives, but here was a wife silencing, editing, speaking for, creating, her husband." For almost all their married lives, the Nabokovs were inseparable. Russian ?migr?s in Germany, France and then the U.S., they eked out a bare existence despite Nabokov's reputation as a stellar Russian novelist. With no market for his writing, he needed his wife to work as a translator so they could survive. After hours she also edited and translated his writings, conducted his professional affairs and maintained their marriage. Only the runaway international success of Lolita when they were in their later 50s freed the couple from scraping together a living. (A film advance gave Nabokov 17 times his annual salary at Cornell, a post that had taken years to secure.) Suddenly flush, the Nabokovs, by choice, again became ?migr?s, wealthy residents of a Swiss luxury hotel. Schiff's best pages evoke the years of adversity, as when the Jewish V?ra, regal even in penury, perilously remained in Nazi Germany until May 1937 (after non-Jewish Vladimir exited) because it was the only country where either one could legally work. Often described as "hovering" over her husband by his Cornell colleagues, V?ra was always close byÄeven working as his teaching assistantÄbecause, according to Schiff, he simply could not function without her. This book offers more than a peek at the famous author through his wife's eyes. When her 1991 New York Times obit called V?ra "Wife, Muse, and Agent" it only hinted at her role, which is rescued from obscurity in Schiff's graceful prose. 16 pages of b&w photos. (Apr.)
Copyright © Reed Business Information, a division of Reed Elsevier Inc. All rights reserved.
Choice The Vera Nabokov who emerges from Schiff's compelling book proves an even more complex character than hitherto suspected: a strong personality eager to sacrifice herself for her husband's art, without ever giving up even one iota of her own identity. Though Schiff of necessity covers the same events as Brian Boyd's monumental two-volume biography (Vladimir Nabokov: The Russian Years, CH, Jan'91; Vladimir Nabokov: The American Years, CH, Feb'92), she puts Vera at the center of the narrative, a spot Mrs. Nabokov always avoided and instead saved for her husband's talent alone. Schiff elaborates on Boyd's portrait of Vera, a difficult task, especially in light of Mrs. Nabokov's well-known reticence about herself. Only about 20 pages deal with Vera Nabokov before she met her future husband, but the marriage is truly the focus of the biography. The Nabokovs' loving union is legendary, and Schiff sheds light on the facts behind that legend. Relying on extensive research, scores of in-depth interviews, and meticulous documentation, Schiff offers an objective portrait of Vera Nabokov in all of her moods, good and bad. Accessible to the general reader, this biography also offers new insights and perspectives to students and scholars of Vladimir Nabokov's life and works. All collections. C. A. Rydel Grand Valley State University
Copyright American Library Association, used with permission.
Book list Vera's first encounter with her husband-to-be--a young, handsome, up-and-coming poet--prefigured the intensity of their artistically fruitful marriage. It was spring in Berlin in 1923 when the two Russian emigres rendezvoused on a bridge and Vera entranced Vladimir by wearing a black satin mask and reciting his poems. Even after she became his muse, soulmate, champion, translator, business manager, and bodyguard (she was a crack shot and carried a pistol in her purse), Vera remained concealed behind her alabaster beauty, unfailing discretion, and strict decorum, devoting herself utterly to her husband and his dazzling creations. Schiff, a gifted biographer whose first book was an insightful portrait of Antoine de Saint-Exupery, not only draws this fascinating and accomplished woman out from behind her cherished mask and celebrated husband, she illuminates the profoundly collaborative process by which Vladimir wrote his scintillatingly original and provocative works. Every page he composed passed through Vera's keen mind and tirelessly typing fingers. She was his first and foremost reader, his shrewdest editor, and the inspiration for his unique aesthetics, erudite wit, and deep sophistication. Schiff tracks their often precarious lives in increasingly dangerous Berlin, then in the wide-open U.S., focusing most energetically on Vera's extraordinary involvement in Vladimir's academic and literary careers. It was Vera who bullied publishers on Vladimir's behalf; Vera who negotiated contracts, oversaw translations, drove the car, and kept her hero free from all the nagging details of everyday life. She was the moon to his sun, and his dedication "To Vera" in every book quietly marks the immensity and magic of their passion. --Donna Seaman
From Booklist, Copyright © American Library Association. Used with permission.
Library Journal Vladimir Nabokov's works have come to the attention of the public again with the publication of Library of America editions and the recent film version of Lolita. Several years ago, Brian Boyd produced a two-volume definitive biography: Vladimir Nabokov: The Russian Years (LJ 10/1/90) and Vladimir Nabokov: The American Years (LJ 8/91). Schiff's book distinguishes itself by focusing on the relationship between Vladimir and his wife V?ra, a marriage that lasted some 50 years. Schiff (Saint Exup?ry, LJ 10/1/94) traces the years in France and Germany before World War II, followed by a hurried immigration to the United States and Nabokov's eventual literary success. Schiff also handles the difficulties within the marriage, including affairs. Through it all, the couple forged a close alliance as V?ra oversaw the editing of manuscripts, translation, the negotiation of contracts, and much of Vladimir's correspondence. The result is a scholarly, readable look at a remarkable literary duo.ÄRonald Ray Ratliff, Chapman H.S. Lib., KS
Copyright © Reed Business Information, a division of Reed Elsevier Inc. All rights reserved.