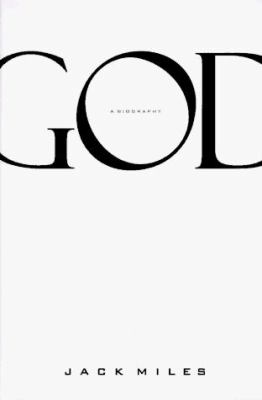 God: A Biography
by Jack Miles


Library Journal Despite its provocative title, this is a serious attempt to come to an understanding of the portrayal of God in the Tanakh, i.e., the books of the Hebrew Scriptures in the order of the Hebrew Bible, as opposed to the order in the Old Testament. Miles, a former Jesuit with a Ph.D. in Near Eastern languages who is currently a member of the editorial board of the Los Angeles Times, offers "knowledge of God as a literary character." While some may not care for how God is portrayed?at one point he is "whiny"?the book will appeal to believers and nonbelievers alike as an excellent introduction to the Hebrew Scriptures that does not read like a Scripture commentary. Recommended for all collections.?Augustine J. Curley, Newark Abbey, N.J.
Copyright © Reed Business Information, a division of Reed Elsevier Inc. All rights reserved.
Publishers Weekly In a masterful, audacious inquiry, Miles attempts to tease out God's nature, character, motives and designs through a close textual analysis of the Hebrew Bible, or Old Testament. He deduces that the God of Judeo-Christian tradition is an amalgam of several ancient, divine personalities. Worshiped as the source of mercy, wisdom, strength and love, God is also at times an abrupt, unpredictable, wrathful being: a destroyer as well as a creator. There is also Abraham's personal god, almost a ``busy friend of the family''; God the lawgiver, who attaches supreme importance to justice; God as arbiter, conqueror and father; and the silent, omniscient God of the Book of Daniel, who knows in detail the entire remaining course of history. The Creator, in Miles's reading, is intimately linked to human destiny, because humanity, made in His image, is an indispensable tool in His quest for self-understanding. Miles, a former Jesuit and currently a Los Angeles Times columnist, has written a profound exploration of Western monotheism and the wellsprings of faith. 35,000 first printing; BOMC alternate; QPB selection; author tour. (Apr.)
Copyright © Reed Business Information, a division of Reed Elsevier Inc. All rights reserved.
Choice Ludwig Feuerbach argued that every theological statement is also an anthropological statement, thus introducing "theology from below." Miles has attempted the reverse. Starting with the premise that the Hebrew Bible is a book about God, Miles attempts to write God's biography. Miles explains: "We see him first as the creator .... We see him last as the 'Ancient of Days' .... Well short of the midway point in the text, the narrative breaks off." What stands in between basically are speeches by God (the prophets), about or to God (e.g., Psalms), and even a silence (especially in Esther, which never mentions God). Miles thus has produced a well-written, provocative study. A critically trained scholar, he nevertheless adopts a "deliberate naivet'e," in which he attempts to read the text straight through. Although that effort produces striking results, it also stumbles over the kinds of contradictions in the text that gave rise to critical methods of study. And although it is true that great biographies portray people with conflicted personalities it is also true that unmitigated contradiction leaves the reader confused, which assumed naivet'e cannot cover, only ignore. Upper-division undergraduate; graduate; faculty; professional; general. C. L. Redditt; Georgetown College
Copyright American Library Association, used with permission.