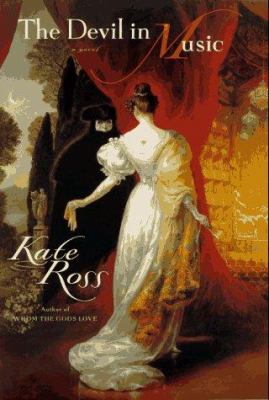 The Devil in Music
by Kate Ross


Library Journal Ross's historical mysteries featuring English dandy Julian Kestrel (e.g., Whom the Gods Love, LJ 4/1/95) have earned a loyal following. This fourth entry in the series moves Kestrel from his usual London haunts to Milan and moves Ross from trade paperback to hardcover status. While traveling the Continent with his friend, Dr. MacGregor, Kestrel reads of the recent uncovering of a four-year-old murder involving the aristocratic Malvezzi family and decides to try out his investigating skills once again. The victim was Lodovico Malvezzi, a Milanese marquis and famed music lover. Given his imperious manner, suspects are all to easy to find, especially among his family. Added to the mystery of his death are the disappearances of a talented musical protégé of the marquis and a surly servant, various intrigues related to Italian politics, and rebellions. Kestrel is undaunted by these challenges but finds Malvezzi's beautiful young widow a dangerous distraction. While the plotting is not as tight as in previous novels, the final chapters are replete with enough revelations and twists to please Ross's fans and leave them looking forward to the next novel.?Jan Blodgett, Davidson Coll., Davidson, N.C.
Copyright © Reed Business Information, a division of Reed Elsevier Inc. All rights reserved.
Publishers Weekly In her fourth novel featuring the sharp-witted English dandy Julian Kestrel, Ross (Whom the Gods Love) adeptly fashions a mystery from lethal family secrets, political strife, passion for great music and an opulent early 19th-century setting. While in Geneva on a continental holiday, Kestrel learns that the death of Marchese Lodovico Malvezzi in Italy some four years earlier was actually a homicide. The chief suspect is Orfeo, a talented young English singer whom Lodovico had been secretly grooming for a brilliant opera career and who disappeared the night of the murder. Kestrel, accompanied by his valet, Dipper (an ex-pickpocket), and his irascible friend Dr. Duncan MacGregor, travels to Milan, in the heart of Austrian-controlled northern Italy. He offers his services to Marchesa Beatrice Malvezzi, the beautiful and quite possibly dangerous young widow, who introduces him to Milanese society. Especially adroit are Ross's scenes at La Scala, where the operas performed on stage are mere backdrops to the social intrigues occurring in the private boxes of the aristocracy. Suspects abound, and Kestrel's principal adversaries are worthy foes. Gaston de la Marque, his rival for the Marchesa's attentions, is a clever and piquant Frenchman whose verbal duels with Kestrel are knife-edged. Commissario Grimani of the Milanese police is also a formidable obstacle, more concerned with a quick solution to impress his Austrian superiors than with finding the real murderer. The large cast, intricate plot and historical setting are all of operatic proportions, yet Ross never loses control of her story. The result is an elegant and finely tuned performance. Author tour. (Sept.)
Copyright © Reed Business Information, a division of Reed Elsevier Inc. All rights reserved.