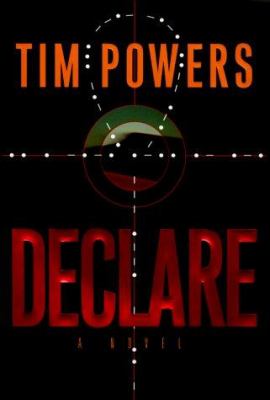 Declare
by Tim Powers


Publishers Weekly Powers (The Anubis Gates, etc.), known hitherto as an expert fantasy writer, has created a mind-bending mix of genres here, placing his gifts for extreme speculative fiction in service of a fantastical spy story involving rivalries between no fewer than four intelligence services: British, French, Russian and American. In 1963, Andrew Hale is summoned to reenter the secret service. He has a past embracing anti-Nazi activities in Occupied ParisÄwhere he fell in love with Elena, a Spanish-born Communist operativeÄand a spectacularly unsuccessful mission on Mount Ararat in 1948, the purpose of which only gradually becomes clear. Powers posits that the mountain, as the speculative last home of Noah's Ark, is also the dwelling place of many djinns, supernatural beings that often take the form of rocks in the Arabian deserts. The father of British spy Kim Philby, a noted Arabist, had been a keen observer of these phenomena and taught his son about them. Now it seems that a supernatural power, manifesting itself as an old woman, is safeguarding the Soviet Union, and if fragments of a destroyed djinn can be introduced into Moscow, they could destroy her protection and make the Soviet Union susceptible to normal human laws. This is Hale's mission. In 1948 it failed, and most of his commando force was destroyed. On his return 15 years later, with Philby, Hale succeeds in shooting fragments of djinn into Philby, who then returns to Moscow. Upon Philby's death many years later, the Soviet Union duly collapses. The styles of spy fiction, with dense counterplotting and extremes of caution, and the spectacular supernatural scenes simply do not blend. It's all offbeat and daringly imaginative, but ultimately rather foolish entertainment. (Jan. 9) Forecast: This original novel, despite its strengths, is unlikely to satisfy fully fans of either spycraft or fantasyÄand such is the pitfall of genre-bending. A 6-city author tour plus vigorous promotion online and off could give the book some turbo power, though. Copyright 2000 Cahners Business Information.
Copyright © Reed Business Information, a division of Reed Elsevier Inc. All rights reserved.
Library Journal As a young man, Alan Hale, working for British Intelligence, failed to stop a mysterious Soviet mission on Mt. Ararat and re-entered civilian life. Twenty years later, he must return to Turkey to accomplish the mission that has haunted him since the end of World War II. Powers (Earthquake Weather), known for his complex fantasy tales, here turns in a classic spy novel with a supernatural twist that ties Lawrence of Arabia to the fall of the Iron Curtain. Fans of John le Carr will appreciate the authentic period detail, meticulous descriptions of the business of espionage, and portraits of actual spies, such as Kim Philby; others will enjoy the suspense and chilling atmosphere of Cold War antics, as well as Powers's intricate chronology and plotting. [The publisher is marketing this as Powers's mainstream breakout novel.DEd.]DDevon Thomas, Hass Assoc., Ann Arbor, MI Copyright 2000 Cahners Business Information.
Copyright © Reed Business Information, a division of Reed Elsevier Inc. All rights reserved.