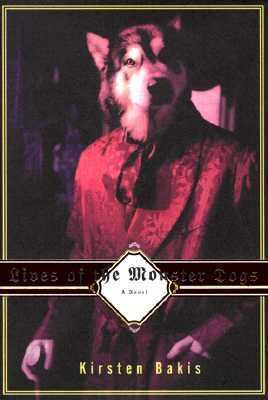 Lives of the Monster Dogs
by Kristen Bakis


Book list In Bakis' first novel, the "monster dogs" of the title have intelligence, voice boxes, and human hands, thanks to mad Prussian scientists working to perfect "dog soldiers" in a secret town in Canada, frozen in the year 1882, though the story is set in 2008. The dogs massacre their masters and move to New York, where they become celebrities. The narrator, Cleo Pira, is a struggling NYU student chosen as the dogs' human scribe by Klaue ("Claw"), their paranoid, power-drunk leader. She also befriends Ludwig, the monster dogs' historian, and Lydia, a gentle Samoyed. Cleo must learn about (and from) them quickly: the dogs are reverting to animal states for increasing intervals. This parable imagines society's privileged as dogs and explores how power and wealth corrupt (they corrupt Cleo, too) and how traditions and values fade. Journals, dreams, letters, and even a libretto vary the tale telling, though the writing suffers from occasional heavy-handedness and foreshadowing that leaves few surprises. Still, this book will delight those seeking fantasy and intrigue. --Kevin Grandfield
From Booklist, Copyright © American Library Association. Used with permission.
Book list In Bakis' first novel, the "monster dogs" of the title have intelligence, voice boxes, and human hands, thanks to mad Prussian scientists working to perfect "dog soldiers" in a secret town in Canada, frozen in the year 1882, though the story is set in 2008. The dogs massacre their masters and move to New York, where they become celebrities. The narrator, Cleo Pira, is a struggling NYU student chosen as the dogs' human scribe by Klaue ("Claw"), their paranoid, power-drunk leader. She also befriends Ludwig, the monster dogs' historian, and Lydia, a gentle Samoyed. Cleo must learn about (and from) them quickly: the dogs are reverting to animal states for increasing intervals. This parable imagines society's privileged as dogs and explores how power and wealth corrupt (they corrupt Cleo, too) and how traditions and values fade. Journals, dreams, letters, and even a libretto vary the tale telling, though the writing suffers from occasional heavy-handedness and foreshadowing that leaves few surprises. Still, this book will delight those seeking fantasy and intrigue. --Kevin Grandfield
From Booklist, Copyright © American Library Association. Used with permission.
Publishers Weekly Cosmopolitan Manhattan of 2008 embraces a new breed of immigrant in this weird, fanciful tale of surgically enhanced, talking, bionic canines out on the town as they search for their history and place in the world. Conceived by 19th-century Prussian mad scientist Augustus Rank as an army of superior, fiercely loyal dog soldiers, the monster Pinschers, Rottweilers, German Shepherds, Dobermans and other sturdy breeds became fully empowered only many years after his death. Rank's followers, secluded in a remote Canadian village, continued his work, ultimately developing a race of super-intelligent, longer-living dogs trained from birth to use surgically attached mechanical hands, speak fluent German via a mechanical voice box, walk erect and dress in the elegant human fashions of the 1880s. NYU student Cleo Pira develops friendships with a few of the dogs in New York and becomes their liaison to the human press, writing insider articles for Vanity Fair and other chic magazines. Cleo narrates the novel, incorporating excerpts from the papers of Ludwig Von Sacher, the dogs' historian. First-novelist Bakis holds the reader in thrall for much of her imaginative tale, but, disappointingly, the dogs never emerge as strong characters. Though the reader gains some understanding of Ludwig through his writing, Cleo's conversations with the dogs are uniformly abrupt and anti-climactic. Instead, Bakis offers more of a dream vision that, ultimately, might be all in Cleo's head. Fortunately, that vision is engaging in its own right and, through Bakis's storytelling skill, makes for an audacious, intriguing and ultimately haunting debut. (Feb.)
Copyright © Reed Business Information, a division of Reed Elsevier Inc. All rights reserved.
Library Journal A clever, compelling Frankenstein story for the millennium, Bakis's first novel draws the reader into an improbable near-future phenomenon and makes it beguilingly real. In 1897 German scientist Augustus Rank flees with his followers to a remote Canadian location, where they labor in secret toward Rank's dream of engineering an advanced race of soldier dogs. A century later, the dogs are perfected?natural but hyperintelligent canines fitted with voice-boxes and prosthetic hands, trained in human pursuits and standing erect. They revolt, destroy their makers, and, dressed in 19th-century formal wear, find their way to 21st-century New York City. This book is the story of New York's experience of these now-peaceful marvels, of their history and misleading glamor, and, particularly, of the relationship between human narrator Cleo Pira and the wise and troubled canine historian, Ludwig von Sacher. This classic monster story, tragic and philosophical, is simply marvelous. A poised and accomplished debut; highly recommended.?Janet Ingraham, Worthington P.L., Ohio
Copyright © Reed Business Information, a division of Reed Elsevier Inc. All rights reserved.