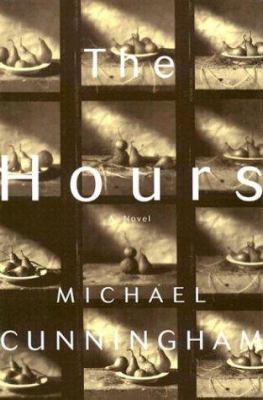 The Hours
by Michael Cunningham


Publishers Weekly At first blush, the structural and thematic conceits of this novel?three interwoven novellas in varying degrees connected to Virginia Woolf?seem like the stuff of a graduate student's pipe dream: a great idea in the dorm room that betrays a lack of originality. But as soon as one dips into Cunningham's prologue, in which Woolf's suicide is rendered with a precise yet harrowing matter-of-factness ("She hurries from the house, wearing a coat too heavy for the weather. It is 1941. She has left a note for Leonard, and another for Vanessa."), the reader becomes completely entranced. This book more than fulfills the promise of Cunningham's 1990 debut, A Home at the End of the World, while showing that sweep does not necessarily require the sprawl of his second book, Flesh and Blood. In alternating chapters, the three stories unfold: "Mrs. Woolf," about Virginia's own struggle to find an opening for Mrs. Dalloway in 1923; "Mrs. Brown," about one Laura Brown's efforts to escape, somehow, an airless marriage in California in 1949 while, coincidentally, reading Mrs. Dalloway; and "Mrs. Dalloway," which is set in 1990s Greenwich Village and concerns Clarissa Vaughan's preparations for a party for her gay?and dying?friend, Richard, who has nicknamed her Mrs. Dalloway. Cunningham's insightful use of the historical record concerning Woolf in her household outside London in the 1920s is matched by his audacious imagining of her inner lifeand his equally impressive plunges into the lives of Laura and Clarissa. The book would have been altogether absorbing had it been linked only thematically. However, Cunningham cleverly manages to pull the stories even more intimately togther in the closing pages. Along the way, rich and beautifully nuanced scenes follow one upon the other: Virginia, tired and weak, irked by the early arrival of headstrong sister Vanessa, her three children and the dead bird they bury in the backyard; Laura's afternoon escape to an L.A. hotel to read for a few hours; Clarissa's anguished witnessing of her friend's suicidal jump down an airshaft, rendered with unforgettable detail. The overall effect of this book is twofold. First, it makes a reader hunger to know all about Woolf, again; readers may be spooked at times, as Woolf's spirit emerges in unexpected ways, but hers is an abiding presence, more about living than dying. Second, and this is the gargantuan accomplishment of this small book, it makes a reader believe in the possibility and depth of a communality based on great literature, literature that has shown people how to live and what to ask of life. (Nov.) FYI: The Hours was a working title that Woolf for a time gave to Mrs. Dalloway.
Copyright © Reed Business Information, a division of Reed Elsevier Inc. All rights reserved.
Library Journal The celebrated author of Flesh and Blood draws on Virginia Woolf's final days to illuminate the life of a contemporary poet.
Copyright © Reed Business Information, a division of Reed Elsevier Inc. All rights reserved.
Library Journal Clarissa Dalloway certainly is a popular lady nowadays, with a recent movie and now a new book based on her life. She is, of course, the heroine of Virginia Woolf's 1925 novel about a day in the life of a proper but uninspired wife and the tragic event that changes her. In this new work by Cunningham (Flesh and Blood, LJ 4/15/95), that day's events are reflected and reinterpreted in the interwoven stories of three women: Laura, a reluctant mother and housewife of the 1940s; Clarissa, an editor in the 1990s and caretaker of her best friend, an AIDS patient; and Woolf herself, on the verge of writing the aforementioned novel. Certain themes flow from story to story: paths not taken, the need for independence, meditations on mortality. Woolf fans will enjoy identifying these scenes in a different context, but it's only at the end that the author engages more than just devoted followers with a surprisingly touching coda that stresses the common bonds the characters share. Given Woolf's popularity, this is a book all libraries should consider, with an exhortation to visit Mrs. Dalloway as well.ÄMarc A. Kloszewski, Indiana Free Lib., PA
Copyright © Reed Business Information, a division of Reed Elsevier Inc. All rights reserved.