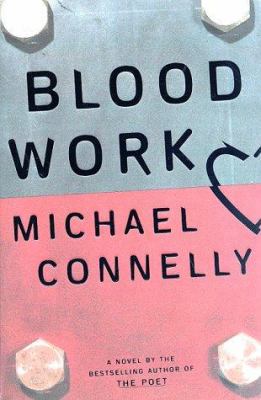 Blood Work
by Michael Connelly


Publishers Weekly Connelly follows up Trunk Music with a tautly paced, seductively involving thriller about a murder that is less random than it seems. Ex-FBI agent Terry McCaleb is recuperating from a heart transplant when beautiful Graciela Rivers walks up to his San Pedro houseboat, tells him that the donor of his new heart, her sister Gloria, was murdered in a convenience-store robbery and asks him to find the killer. Although his doctor warns him against it, McCaleb can't resist the case (any more than he could resist the serial-murder cases that caused his heart attack in the first place). With no license and little cooperation from the police, McCaleb reviews the evidence and connects a second murder to Gloria's killer. But it's only when he discovers that souvenirs have been taken from the victims that McCaleb realizes he is dealing with a type of killer with which he is all too familiar. Even working with seemingly shopworn material, Connelly produces fresh twists and turns, and, as usual, packs his plot with believable, logical surprises. He adds a moral twist by establishing a frightening bond between the hunter and the hunted, intimately connecting his detective to the criminal's guilt. Fans of Connelly's Harry Bosch novels will feel right at home with this beautifully constructed, powerfully resonating thriller, and newcomers will see right away what all the fuss has been about. Author tour. (Mar.)
Copyright © Reed Business Information, a division of Reed Elsevier Inc. All rights reserved.
Library Journal Having made the best sellers lists with The Poet, Connelly waves goodbye to protagonist Harry Bosch and welcomes former FBI agent Terrill McCaleb, in retirement after a heart transplant. But he's back in action when he learns that the woman from whom he received the heart was murdered.
Copyright © Reed Business Information, a division of Reed Elsevier Inc. All rights reserved.
Book list Once the point man for FBI serial-killer hunts in Los Angeles, Terry McCaleb is now retired. He's also recovering from heart-transplant surgery, made necessary, at least in part, by the pure evil, madness, and inhumanity his work forced him to confront. His routine--monitoring his temperature, taking his meds, and puttering on his boat--is upset when Graciela Rivers asks him to investigate her sister's death in a convenience-store robbery. McCaleb refuses until Graciela tells him that he is alive because he received her dead sister's heart. Painstaking investigation convinces McCaleb that Graciela's sister wasn't the chance victim of a robbery gone bad; she was the target. Painstaking investigation also irritates the dickens out of the LAPD and ultimately the bureau, and Terry realizes that he is being manipulated. By the time he is about to be indicted as the killer, he learns an even more shattering truth. Blood Work is solid entertainment but not up to Connelly's last two novels: The Poet (1996) and the superb Trunk Music (1997). Frankly, many readers will see the shattering truth coming a long time before the sleuth does. That shouldn't keep libraries from buying the book, but this reviewer is looking forward to the return of Connelly's LAPD detective, Harry Bosch. --Thomas Gaughan
From Booklist, Copyright © American Library Association. Used with permission.