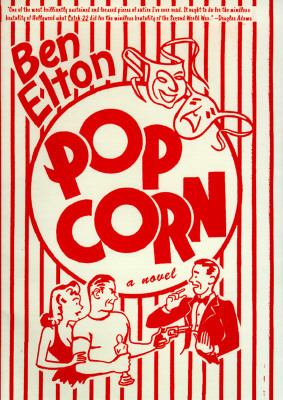 Popcorn
by Ben Elton


Book list In this slick comedy-cum-thriller, film-school grad Bruce Delamitri has hit the big time with his latest superviolent crime movie--he's won the Oscar for Best Director. The sick maniacs he features in his movies wear ultrastylish clothing and perform their mayhem set against witty soundtracks. But whenever pressed on the question of whether he's feeding the violent impulses of modern society, Delamitri refuses to take any responsibility, claiming that he's making art. Then two sick maniacs show up on his doorstep. Wayne and Scout aren't anything like the criminals portrayed in Bruce's movies. These tawdry trailer-park denizens can spout Bruce's movie dialogue word for word, but their sadistic executions don't evoke ironic distance, they induce a nauseating hysteria. With a lightning-quick pace, Elton sends up film directors like Quentin Tarantino and Oliver Stone while making cogent points about taking responsibility for our society's fascination with violence. Done with a very light, deft touch, this first novel is both entertaining and thought provoking. --Joanne Wilkinson
From Booklist, Copyright © American Library Association. Used with permission.
Library Journal This satire, in which a stylish Hollywood action/thriller director has an unfortunate encounter with the type of twisted men portrayed in his movies, was a best seller in England. Look for a movie version from Warner Bros.
Copyright © Reed Business Information, a division of Reed Elsevier Inc. All rights reserved.
Publishers Weekly Bruce Delamitri is hot. He makes hip, ultra-violent, post-postmodern movies that everybody wants to be in. Kids think he's cool, and critics think he's a genius. He's got a mansion in Hollywood. He's up for an Oscar. Essentially, he's a thinly veiled version of Quentin Tarantino. But all is not entirely well in La-La Land, as English novelist-playwright Elton goes on to show in this entertaining, action-packed satire. A pair of homicidal maniacs known as the Mall Murderers?aka muscle-bound Wayne and his gun moll, Scout?are ravaging the nation. They're claiming that Bruce's movies drove them to it, and they're on their way to California to confront him. Elton has written a fast and unusually funny Hollywood thriller with all the right elements: a Playboy centerfold-turned-actress, a wisecracking New York agent, a spoiled Beverly Hills princess and any number of empty-headed anchormen and -women. Elton's ear for American mediaspeak is good, if not perfect, and he gets off his share of nifty one-liners. Less successful are the extended parodies of Tarantino's screenplays and Elton's heavy-handed attempts to make a serious point about media culture, namely, that Americans are too quick to blame the media for social ills for which they should be taking responsibility. Elton is at his waspish, Waugh-ish best when he sticks to what he does best: popcorn. Film rights optioned by Joel Schumacher. (Nov.)
Copyright © Reed Business Information, a division of Reed Elsevier Inc. All rights reserved.
School Library Journal YAÄA unique novel that combines a thrilling story line with the thought-provoking question of society's responsibilities toward its various members. Oscar-winning director Bruce Delamitri makes popular movies containing senseless violence and murder. He feels nothing but disdain for the critics and "bleeding hearts" who condemn his work, for he believes that he is just giving the public what they want to see. On Oscar night, two psychopathic killers who have all of Bruce's movies memorized, and are emulating different scenes, invade the man's home, taking him captive, along with his soon-to-be-ex-wife, his daughter, and several other members of Hollywood society. As the police and media surround the house, the question that everyone is asking is, "Are Bruce Delamitri's movies to blame for the situation in which he now finds himself?" This novel often uses fairly sophisticated or graphic language that suits the theme and violent situations, but the plot is easy to follow. Fast-moving recreational reading or a springboard for discussions on the interrelationships of human beings and society.ÄAnita Short, W. T. Woodson High School, Fairfax, VA
Copyright © Reed Business Information, a division of Reed Elsevier Inc. All rights reserved.