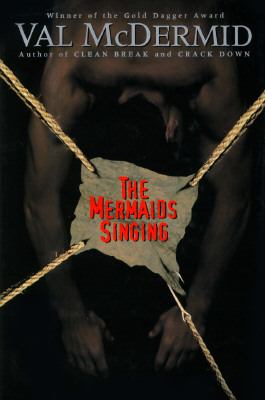 The Mermaids Singing
by Val McDermid


Library Journal First published in Great Britain in 1995, this title marks a clean break from McDermid's Kate Brannigan/Lindsay Gordon series. Here, criminologist Dr. Tony Hill and Detective Inspector Carol Jordan search for an arrogant serial killer who tortures his victims and leaves no clues. A safe bet.
Copyright © Reed Business Information, a division of Reed Elsevier Inc. All rights reserved.
Publishers Weekly McDermid (A Clean Break) enters new ground with a dark tale that is more complex, more carefully crafted and far more disturbing than her Kate Brannigan mysteries. By the time the police admit that Bradfield, a fictional city in northern England, has a serial killer, four men are already dead, each tortured in a different way and then abandoned outdoors in town. Baffled by a lack of physical evidence left by the meticulous sociopath, police bring in Tony Hill, a Home Office forensic psychologist who profiles criminals. Tony, who begins each day by ``selecting a persona,'' devours crime data with a fascination approaching admiration for the killer. The interest distracts him from obsessing over his own sexual impotence and over the ``exquisite torture'' of salacious phone calls he's been getting from a strange woman. DI Carol Jordan, a mercifully normal person who is Tony's liaison with the force, quickly grasps the profiling approach while keeping her policing instincts. Carol and Tony forge an uneasy relationship; but, as they pursue ``the Queer Killer,'' a cloddish policeman undermines them, a local reporter blows the case to get a byline and the murderer closes in on a new quarry. A warning: woven into this powerful story are journal entries in which the murder discusses torture in loving detail, an aspect that makes this graphic, psychologically terrifying tale almost as off-putting as it is impossible to put down. (Dec.) FYI: This novel won Britain's Gold Dagger Award for best crime novel of 1995.
Copyright © Reed Business Information, a division of Reed Elsevier Inc. All rights reserved.
Book list McDermid's exciting, rapid-fire whodunit is set in the fictional Midlands city of Bradfield, where a serial killer is at large whose signature is the sexual torture of male victims. Stymied, the constables bring in Tony Hill, constructor of psychological profiles, a move resented by a crusty investigator who, jealous of Hill as an overeducated outsider, barges ahead with his own gumshoe method, posting undercover police in Bradfield's gay bars. This indeed produces a suspect, but Hill, in alliance and in dalliance with investigator Carol Jordan, is unpersuaded: his profile of a computer-literate stalker doesn't match the suspect. Meanwhile, at the interstices of the conflict between Hill/Jordan and the curmudgeonly policeman, the author inserts the killer's sadistic chronicle of the crimes, which forces readers to reevaluate possible candidates. This involving method cranks up a high-velocity, high-tension ending involving the stalker's next intended victim--Tony Hill--whose proclivity for phone sex has landed him in deep trouble. A satisfying descent into the territory of a twisted mind. --Gilbert Taylor
From Booklist, Copyright © American Library Association. Used with permission.