by Lee Child and Andrew Child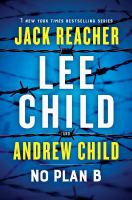 Kirkus
Copyright © Kirkus Reviews, used with permission.

In the latest volume from Child, Inc., in which the retiring Lee's younger brother, Andrew, will soon take over the Jack Reacher franchise, the colossal ex-Army cop traces the killing of a woman in a Colorado town to a gruesome prison conspiracy in Mississippi. The death is ruled a suicide, but Reacher saw a man push the woman under a bus and steal her purse. After tracking down and disposing of the culprit, he learns that the woman worked for a private prison in Mississippi and had returned to Colorado to run troubling statistics about the prison's operation past her former boss. He died of a supposed heart attack 12 hours before her death. Teaming up with the man's tough-skinned ex-wife, Reacher heads South to sort things out, "wired to move toward danger." Fearing Reacher will interfere with their deadly schemes, prison officials set up a network of roadblocks outside of town to pick him off. Meanwhile, a vulnerable 15-year-old boy, escaping his abusive foster mother in Los Angeles, travels to Mississippi after his birth mother tells him life-changing truths about his father. He, too, is targeted by bad guys. Most of the ingredients of classic Reacher are here. Our sadistic hero delivers bone-crushing blows to his hopeless foes with sadistic satisfaction ("Would you care if you stepped on a cockroach?"). He eludes the traps set for him and penetrates the high-security prison. He drinks a lot of coffee and beds a local woman. What's missing in this follow-up to the collaborative Better Off Dead (2021) is Lee Child's elegant writing, for which he hasn't received enough credit. The sentences here are short and metronomically flat, and the early sections are uncharacteristically disjointed. But fans who come for the action and the traveling tips—a folding toothbrush is best, he advises—will not be disappointed. A grimly efficient addition to the Reacher canon. Copyright © Kirkus Reviews, used with permission.
---
Book list
From Booklist, Copyright © American Library Association. Used with permission.

In the new Jack Reacher novel, the former military cop witnesses a homicide: a man pushes a woman under a bus. The police seem content to write it off as an accident, but the detective in charge of the case isn't happy about that and asks Reacher (unofficially, of course) to find out what happened and why. This is the twenty-seventh installment in the Reacher series, and the third cowritten by Lee Child and his younger brother, Andrew, before Andrew takes over when Lee's retirement kicks in; but the writing is as crisp as it was in the very first novel, 1997's Killing Floor. Reacher continues to be one of thrillerdom's most compelling characters, a big man with an unswerving sense of justice who prefers to use his mind to get out of a jam, but who's also perfectly comfortable using his fists as required. Reacher fans may have been worried about how the baton pass between brothers would affect the delicate chemistry of the series—particularly the tone and the balance between action and reflection—but so far, so good. HIGH-DEMAND BACKSTORY: Reacher still rules, even with two names on the title page.
---
Library Journal
(c) Copyright Library Journals LLC, a wholly owned subsidiary of Media Source, Inc. No redistribution permitted.

Though an eyewitness concurs that a woman leaped before a bus to her death, Jack Reacher knows she was pushed by a hooded purse snatcher, whom he follows into a major conspiracy. After two Child brothers collaborations, both No. 1 New York Times best sellers.
---
Publishers Weekly
(c) Copyright PWxyz, LLC. All rights reserved

At the start of the relentlessly paced 27th Jack Reacher novel—the third collaboration between the Child brothers (after 2021's Better Off Dead)—six men meet at Minerva, a Mississippi prison, to decide if someone who witnessed the murder of Minerva employee Angela St. Vrain in Gerrardsville, Colo., poses a threat to their illegal sources of profit. That someone is Reacher, who, when a police officer urges him not to get involved, says: "A woman was murdered. Someone has to do something about it." The Minerva team's justifiable fears and Reacher's quest for justice propel the plot, which charts Reacher's long journey from Colorado to Mississippi. Most Reacher stories focus on Reacher, the victims, and the bad guys, but this one has two additional narrative threads: a 15-year-old boy runs away from his foster home in L.A. to reunite with his imprisoned father; and a successful arsonist wants vengeance for his son's mysterious death. The authors sacrifice some narrative momentum with these subplots, but they also provide all the familiar elements Reacher fans expect: the slow reveal of Minerva's massive secret, plenty of violence, Reacher's unique approach to dispensing justice, and a thrilling denouement. Who could ask for more? Agent: Darley Anderson, Darley Anderson Literary (U.K.). (Oct.)