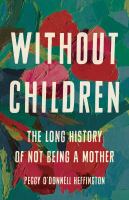 Publishers Weekly
(c) Copyright PWxyz, LLC. All rights reserved

Historian Heffington's incisive debut examines how society demonizes women without children while increasingly failing to provide the supports that make it possible to raise kids sustainably. Noting that "births were down overall" during the Covid-19 pandemic, except for an uptick among middle- and upper-middle-class white women, Heffington posits that the choice to not have children is more "determined by economic pain, lack of support, and fear about the future" than is generally acknowledged. Discussions of the most frequently cited reasons, including work-life imbalance, infertility, and environmental concerns, feature profiles of Queen Elizabeth I, American ecologist Stephanie Mills, and others who embody each challenge. Throughout, Heffington describes how Western "marriage patterns" and the rise of the nuclear family "made it less likely people would—or could—create those families at all." Ultimately, she concludes that in a society that doesn't guarantee maternity leave or health insurance and a world that does not really need more people, giving birth as a default female obligation doesn't make sense. Though women who make the choice to have children may find Heffington's approach antagonistic, she effectively blends statistical data and personal histories to counter the notion that the issue is a purely modern one, and to shift the focus from individual preferences and challenges to systemic societal failures. This is a cogent and well-supported polemic. (Apr.)
---
Book list
From Booklist, Copyright © American Library Association. Used with permission.

Contrary to the current belief that being child-free is a new trend, there have always been people who choose not to have children, says historian Heffington. In this well-researched and compellingly readable history on not-motherhood, she devotes sections to each of the historical and current reasons women do not have children, spanning from economic oppression, climate change, or lack of community support to infertility or career prioritization. Without Children explores the ever-widening societal divide between mothers and nonmothers and argues for the dissolution of this divide. This argument is based upon a central, century-spanning treatise: regardless of her reasons or the societal context, a woman's choice to bear or not bear children should be her own. Heffington invites the reader to explore motherhood and nonmotherhood through diverse philosophical perspectives from the likes of Simone de Beauvoir and bell hooks and through the experiences of individuals like eighteenth-century English cleric Thomas Malthus, civil rights activist Ella Baker, and nineteenth-century New York City abortion provider Madame Restell. Without Children will interest readers engaged with intersectional feminist thought and women's rights in a wide variety of contexts.
---
Kirkus
Copyright © Kirkus Reviews, used with permission.

A history professor explores the many reasons why increasing numbers of women are choosing to be childless. Millennial women are now at the peak of their childbearing years, but as O'Donnell Heffington observes, their rate of childlessness is almost as high as that of fertile women who lived during the Great Depression. The reasons for this trend go far beyond simplistic explanations that modern women are "too selfish, too greedy, too shortsighted," and too focused on their careers. "Women are choosing to have no children, in other words, because they want other things—lattes, degrees, careers, vacations, definitely avocado toast—more than they want kids," writes the author. Challenging economic conditions—brought about first by the Great Recession and then by the Covid-19 pandemic a decade later—have made it extremely difficult for many millennials to create secure home lives for young children. Many young women have found themselves taking on multiple jobs or working their way into better employment opportunities from "the small, unstable dinghies that are early career jobs." Even those with professional salaries must contend with high cost-of-living expenses for themselves and the reality that the day care for just one child typically equates to "the pretax income of someone working full-time at the federal minimum wage." That American families in general have become increasingly isolated from each other over the last 200 years has created a situation in which those with children cannot rely on community networks to help sustain them through crises like the recent pandemic. Finally, the looming threat of climate change has caused many young people, especially those between 16 and 25, to reconsider bringing babies into a "carbon-choked world" where resources are dwindling. Provocative and well researched, this book offers compassionate insight into the history and predicaments of women who have embraced the "never...uncommon and [now] increasingly common" childless life. A liberatingly perceptive work of sociology and cultural history. Copyright © Kirkus Reviews, used with permission.