by Iain Reid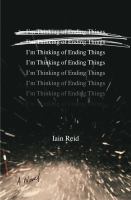 Publishers Weekly
(c) Copyright PWxyz, LLC. All rights reserved

Nonfiction author Reid (The Truth About Luck) fuses suspense with philosophy, psychology, and horror in his unsettling first novel set in an unspecified locale. When Jake takes his unnamed new girlfriend to meet his parents, he doesn't realize she's thinking of "ending things" (just what she might end is at first unclear). Dinner at the family farm proves awkward, reinforcing her doubts about their relationship. On their way home, the weather turns nasty and Jake pulls off the road at a darkened high school. He takes the keys and exits the car, but never returns, leaving his girlfriend little choice but to strike out after him. While the events preceding the couple's separation have the air of a disquieting dream, those that follow are the stuff of nightmares. Stream-of-consciousness narration by Jake's girlfriend adds to the story's surreal quality, and occasional blocks of unattributed dialogue about an unspecified tragedy impart dread. Capped with an ending that will shock and chill, this twisty tale invites multiple readings. Agent: Samantha Haywood, Transatlantic. (June) © Copyright PWxyz, LLC. All rights reserved.
---
Book list
From Booklist, Copyright © American Library Association. Used with permission.

*Starred Review* The narrator of the story is a nameless young woman who is in a newish relationship with Jake, but she has some doubts about where it's going and is thinking about ending things. Their relationship is based on a shared communication style, which moves to the physical, but it is their philosophical conversations that truly move the relationship along. Jake invites the narrator to go home to meet his parents and see the farm where he grew up in a remote village. The family dinner is odd, but the ride back home even more so, with detours to a Dairy Queen staffed by giggling girls and to a dark, deserted high school. This is a powerfully atmospheric book, and the cold, snowy night really ups the creepy factor, as the story grows more diabolical and dangerous with each turn of the page. The narrative is written in the first person, though it's interspersed with an occasional page from a parallel story from a different point of view, and eventually it appears that the two stories will converge. These characters are carefully developed and the plot takes some frightening turns, leading to a shocking ending. The construct of this book is brilliant and unusual and should appeal to fans of psychological thrillers, as well as to some horror fans. A dark and compelling debut novel, it is a most uncomfortable read but utterly unputdownable.--Alesi, Stacy Copyright 2016 Booklist
---
Library Journal
(c) Copyright Library Journals LLC, a wholly owned subsidiary of Media Source, Inc. No redistribution permitted.

It's snowing, and the unnamed narrator is traveling with her new boyfriend Jake to visit his parents at the family farm. The novel's vague title seems to become clearer as the narrator repeatedly ponders calling off their relationship. While this revelation may not have arrived at the best of times, it's quickly apparent that a failed relationship is the least of her problems. When the couple arrives at their destination, Jake's parents are awkward, and the evening goes from strange to unsettling as the narrator explores the setting of Jake's childhood. When the pair drive home, the weather takes a turn for the worse. Jake turns off the highway and parks by an empty high school. He goes inside, leaving the narrator alone and frightened. When she enters the building, her vague sense of foreboding turns into outright terror. Interspersed throughout are snatches of conversation about some unknown act of violence that only heightens the feeling of unease. VERDICT This slim first novel packs a big psychological punch with a twisty story line and an ending that will leave readers breathless. [See Prepub Alert, 11/30/15; previewed in Erica Neubauer's 2016 Mystery Preview "Edge-of-Your-Seat Thrills," LJ 4/15/16.]-Portia Kapraun, Delphi P.L., IN © Copyright 2016. Library Journals LLC, a wholly owned subsidiary of Media Source, Inc. No redistribution permitted.
---
Kirkus
Copyright © Kirkus Reviews, used with permission.

A road trip in a snowstorm takes a sinister turn for a man and his girlfriend, the novel's unnamed narrator. Reid's preternaturally creepy debut unfolds like a bad dream, the kind from which you desperately want to wake up yet also want to keep dreaming so you can see how everything fits togetheror, rather, falls apart. The narrator, known only as the girlfriend, is driving with her beau, Jake, a scientist, to meet his parents at the family farm. The relationship is new, but, as the title implies, she's already thinking of calling it quits. Jake is somewhat strange and fond of philosophizing, though the tendency to speak in the abstract is something that unites the pair. The weather outside turns nastier, and Reid intercuts the couple's increasingly tense journey with short interstitial chapters that imply a crime has been committed, though the details are vague. Matters don't improve when Jake and the narrator arrive at the farm, a hulking collection of buildings in the middle of nowhere. The meeting with her potential in-laws is as awkward as it is frightening, with Reid expertly needling the readerand the narratorinto a state of near-blind panic with every footfall on a basement step. On the drive back, Jake makes a detour to an empty high school, which will take the couple to new heights of the terrifying and the bizarre. Reid's tightly crafted tale toys with the nature of identity and comes by its terror honestly, building a wall of intricately layered psychological torment so impenetrable it's impossible to escape. Copyright Kirkus Reviews, used with permission.