by C.J. Box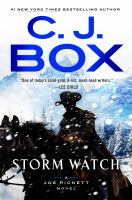 Publishers Weekly
(c) Copyright PWxyz, LLC. All rights reserved

At the start of Edgar winner Box's outstanding 23rd Joe Pickett novel (after 2022's Shadows Reel), the Wyoming game warden comes across a grisly scene after pursuing an injured elk: inside an isolated ranch outbuilding there's a body of a man with the top of his head missing. With a snowstorm fast approaching, Joe has time only to remove the man's wallet and take some photos with his phone. The lazy local sheriff offers little help, and the body of the victim, a University of Wyoming professor according to the ID in his wallet, is gone when Joe returns to the scene. It becomes clear that higher-ups want Joe to stay away from the case. Joe soon has another crime to deal with—a gang has been gathering "sheds," the antlers that bull elks shed each spring, out of season. Meanwhile, Joe's falconer buddy, Nate Romanowski, is suspicious of a shadowy figure keen on persuading him to join an anti-government group. The suspense builds as the various story lines neatly intersect on the way to a tense confrontation between two of the most powerful politicians in Wyoming. Box is writing at the top of his game. Agent: Ann Rittenberg, Ann Rittenberg Literary. (Feb.)
---
Book list
From Booklist, Copyright © American Library Association. Used with permission.

Game Warden Joe Pickett is pursuing a wounded elk in the foothills of the Bighorn Mountains, his customary Stetson replaced by a thick wool rancher's cap, earflaps down. A significant storm was predicted by the National Weather Service, and it turned out to be a "day that would both start and end with blood on the snow." He finds the mutilated body of a state university professor and is frustrated when the state and the feds put a lid on it. He is not sure why. Meanwhile, a local militant group attempts to recruit Joe's friend Nate Romanowski for a violent coup that will enable Wyoming to secede from the union. This very tense twenty-third entry in Box's legendary series (after Treasure State, 2022) keeps timely, introducing crypto mining, gun control, and political extremism into the plot. The sparkling dialogue and rich characterizations again testify to Box's storytelling prowess. A second season of the well-received Spectrum Originals series Joe Pickett is in production.HIGH-DEMAND BACKSTORY: Box is no stranger to best-seller lists, and his latest in an ever-popular series will further cement his position.
---
Kirkus
Copyright © Kirkus Reviews, used with permission.

The Wyoming winter brings maverick game warden Joe Pickett poachers, murderers, spies, and some ferocious bad weather. Seeking a wounded elk and a marauding wolf during a brutal snowstorm, Joe is amazed to discover a human corpse sticking halfway out of a metal outbuilding on the Double Diamond ranch. While he's conscientiously photographing the crime scene, somebody starts shooting at him. Ranch foreman Clay Hutmacher refuses to say anything about the building's purpose until he checks with billionaire ranch owner Michael Thompson; Gov. Colter Allen abruptly orders Joe off the case; and departing Twelve Sleep County Sheriff Scott Tibbs, the boss who'd do anything to avoid having Joe make waves, reports that there's no body at the place he described. Meanwhile, Joe's old friend Nate Romanowski, an outlaw falconer, is approached by ex–Army Ranger Jason Demo, who's trying to attract anti-government malcontents to join the secessionist Sovereign Nation, and Joe realizes that his predatory mother-in-law, Missy, is neglecting her fifth or sixth husband, attorney Marcus Hand, who's dying of pancreatic cancer, to cozy up to Allen, who plans to launch his campaign for reelection at the public library headed by Joe's wife, Marybeth. What does the death of University of Wyoming engineering professor Zhang Wei, if that's really who the dead man was, have to do with all of this malfeasance? Like a patient spider, Box plays out plotline after plotline, balancing his sympathies adroitly between anti-establishment libertarians who've had enough of the coastal elites and officers sworn to serve and protect their communities, before knotting them all together with a climactic revelation that for better or worse will leave you gasping. One of the most successful of Box's increasingly ambitious have-it-all thrillers. Copyright © Kirkus Reviews, used with permission.