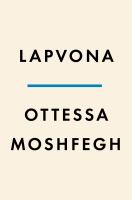 Book list
From Booklist, Copyright © American Library Association. Used with permission.

In Lapvona, a grim sort of fairy-tale place, in an unspecified long-ago time, motherless young Marek lives with his father, Jude, a shepherd of lambs and Marek's brutal opposite: physically strong while Marek, who "had grown crookedly," is "fragile;" simple in his faith while Marek obsesses scrupulously. With Marek's mother lost in childbirth, he, like Jude and many Lapvonians over the last century, has grown up relying on blind, ancient medicine woman and wet nurse Ina, though her milk has finally dried up. Readers soon learn that no one is quite who he first seems in the latest wicked tale from macabre master Moshfegh (Death in Her Hands, 2020)—except, maybe, for Lord Villiam, a ridiculous buffoon whom Lapvona's villagers are powerless to ridicule. The novel begins with an Easter-time attack and spills across the four following seasons, after Marek's violent choice sets into motion chaotic change that leaves almost every Lapvonian in new standing and the entire village facing drought and starvation while Villiam diverts mountain runoff to his idyllic manor's moat and lake. Sculpting an eerily canny fabular world of contrasts and evil, cartoonish cruelty, in her signature way, Moshfegh conjures a grotesque, disturbing story of gross inequality and senseless strife.
---
Library Journal
(c) Copyright Library Journals LLC, a wholly owned subsidiary of Media Source, Inc. No redistribution permitted.

Moshfegh has always been keenly interested in a certain ugliness of humanity, and her latest work takes that preoccupation to its most literal ends yet. Her fourth novel (following Death in her Hands) is ostensibly a work of historical fiction, fixing itself in a small medieval fiefdom where water and religion reign; the narrative is structured according to the four seasons, all the better to communicate the relentless everyday suffering and misery on perverse exhibition therein. In truth, the work more squarely falls within the realm of fabulism, with period-specific magical realism flourishing the narrative. The author's familiar, acidic probing of peculiar psychologies remains largely in place, but here such grotesqueries are not only interior but exterior, each character a twisted fairy-tale creation subsumed within a bleak Middle Ages realism. For Moshfegh initiates, the pivot should feel appropriately organic; for the unfamiliar, the narrative's historical and fantastical tilts still offer plenty to chew on: the village of Lapvona is nothing if not an easy analogue for the implicit evil of class divide. But the novel's success lies in never explicitly committing to either blunt metaphor or cheap cock-and-bull storytelling, instead allowing Moshfegh's facility with trenchant character development to remain at the fore. VERDICT At once immensely alien and deeply human, Moshfegh's latest is a brutal, inventive novel about the ways that stories and the act of storytelling shape us and articulate our world.—Luke Gorham
---
Kirkus
Copyright © Kirkus Reviews, used with permission.

A peasant boy gets an introduction to civilization, such as it is. Moshfegh's gloomy fifth novel is set in the medieval village of Lapvona, ruled by Villiam, who's paranoid and cruel when he's not inept. (For instance, he sends murderous bandits into town if he hears of dissent among the farmers.) Marek, a 13-year-old boy, is becoming increasingly curious about his brutish provenance. He questions whether his mother indeed died in childbirth, as his father, Jude, insists. (The truth is more complicated, of course.) He struggles to reconcile the disease and death he witnesses with the stories of a forgiving God he was raised with. His sole source of comfort is Ina, the village wet nurse. During the course of the year tracked by the novel, Marek finds his way to Villiam, who fills his time with farcical and occasionally grotesque behavior. Villiam's right-hand man, the village priest, is comically ignorant about Scripture, and Villiam compels Marek and a woman assistant into some scatological antics. The fact that another assistant is named Clod gives a sense of the intellectual atmosphere. Which is to say that the novel is constructed from familiar Moshfegh-ian stuff: dissolute characters, a willful rejection of social norms, the occasional gross-out. At her best, she's worked that material into stark, brilliant character studies (Eileen, 2015) or contemporary satires (My Year of Rest and Relaxation, 2018). Here, though, the tone feels stiff and the story meanders. The Middle Ages provide a promising setting for her—she describes a social milieu that's only clumsily established hierarchies, religion, and an economy, and she wants us to question whether we've evolved much beyond it. But the assortment of dim characters and perverse delusions does little more than repetitively expose the brutality of (as Villiam puts it) "this stupid life." A blackhearted but wayward yarn. Copyright © Kirkus Reviews, used with permission.
---
Publishers Weekly
(c) Copyright PWxyz, LLC. All rights reserved

Moshfegh's deliriously quirky medieval tale (after Death in Her Hands) revolves around a disabled shepherd boy's test of faith. Marek, 13, is abused by his father and raised by Ina, a midwife and witch who once nursed him as an infant. Still, Marek possesses a childlike faith in God. He'll need it. All is not well in the fiefdom of Lapvona: a plague ravages the people, a drought sours the earth, starvation spreads, and high atop a hill overlooking the village sits greedy Lord Villiam, a man who "believe that his appetite nothing but a physical symptom of his greatness" and consequently hoards all the food. Down below, Ina trades villagers psychedelic mushrooms for bread and eggs, and the mushrooms give people alternately visions of heaven and hell, either a respite from or an enhancement of the daily nightmare wrought on them by Villiam. Moshfegh's picture of medieval cruelty includes unsparing accounts of torture, rape, cannibalism, and witchcraft, and as Marek grapples with the pervasive brutality and whether remaining pure of heart is worth the trouble—or is even possible—the narrative tosses readers through a series of dizzying reversals. Throughout, Moshfegh brings her trademark fascination with the grotesque to depictions of the pandemic, inequality, and governmental corruption, making them feel both uncanny and all too familiar. It's a triumph. Agent: Bill Clegg, Clegg Agency. (June)