by Jenny Odell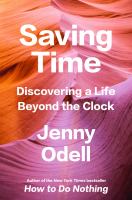 Kirkus
Copyright © Kirkus Reviews, used with permission.

Odell's follow-up to her 2019 hit, How To Do Nothing. In this rigorous, wide-ranging examination of time, the author touches on the pandemic, the climate crisis, and many other pertinent topics. Odell begins by introducing the concept of "fungible time, which "is consistent and can be endlessly subdivided. Measuring fungible time is like envisioning standardized containers that can potentially be filled with work." The author then segues into a section on the clash between the European colonial clock hour and the understanding of time held by "task-oriented" Indigenous communities that organize their activities based on natural phenomena, such as "the flowering or fruiting of a certain plant." Odell works assiduously to explain how our culture arrived at the commonly held belief that "time is money," and she makes her way through an impressive array of historical documents, including the writings of Frederick Winslow Taylor, who worked on "the systematic management of other people's time," and ledgers recording slave labor hours in the West Indies. Ultimately, writes the author, "the origins of the clock, calendar, and spreadsheet are inseparable from the history of extraction, whether of resources from the earth or of labor time from people." In another chapter, Odell asks what happens when this obsession with increased efficiency is turned toward the self, a point she illustrates with an entertaining discussion of "productivity bros" and their "unhealthy fixation on morning routines." The author also considers leisure time (including its relationship to social media) and her personal experience of the pandemic, when the world experienced an "estrangement from common forms of marking time." Odell found comfort in watching a live webcam of a nesting eagle in Iowa. This book, featuring denser prose and more academic subject matter, is not as approachable as How To Do Nothing, but it will reward readers who pay close attention. An erudite investigation of our culture's understanding of time. Copyright © Kirkus Reviews, used with permission.
---
Book list
From Booklist, Copyright © American Library Association. Used with permission.

In her popular first book How to Do Nothing (2019), Odell tackled the attention economy, charting a path for readers away from the addictive technologies that demand our constant attention and, ultimately, our time. With Saving Time, Odell aims her incisive gaze more fully on our relationship with the panoptic concept of time. The idea of squeezing as much quantifiable output as possible from our time is fully ingrained into modern life, as evidenced by the many books on the subject released regularly and to great interest. Odell takes on the idea of time from a holistic vantage, worrying less about its potential yields and instead examining how our collective view of time has corrupted our relationships to work, leisure, and self-worth. Odell mixes rigorously cited research, spanning philosophy, ecology, and indigenous history, with her own personal time sojourn, finding the hidden markers of time's passage along the highways and coastal outcrops of her Bay Area home. Saving Time is the rare book that does more than meet the current moment, it defines it. This will find a long life on any library's shelves.
---
Publishers Weekly
(c) Copyright PWxyz, LLC. All rights reserved

Odell follows up How to Do Nothing with an electric call to reject the quantitative view of time in favor of a more expansive, less linear understanding that fosters interpersonal connection and social and ecological justice. Arguing that "an overemphasis on fungible time upholds an impoverished view of what time and labor are," Odell finds the historical origins of this perspective in the Protestant work ethic and scientific time management principles promoted at the turn of the 20th century, which have evolved into technologies intended to speed up and surveil workers. She criticizes market-based and individualist solutions to the shared problem of limited time, arguing that collective, policy-based approaches are needed to target structural injustices that fuel burnout and disempowerment. Instead of "hoarding" time, Odell advises, one should "garden" it by creating relationships of mutual aid and understanding and fostering meaningful connections and experiences. Heady sections on "recover the contingencies of the past and the present" are interleaved with lyrical observations about natural and man-made environments in San Francisco's Bay Area. Throughout, Odell encourages readers to resist "declinism," which forecloses action by taking a terrible future for granted, and fully inhabit the present as the moment between past and future where change can happen. This is a moving and provocative game changer. Agent: Caroline Eisenmann, Frances Goldin Literary. (Mar.)