by John Grisham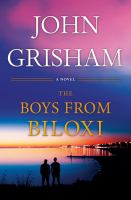 Library Journal
(c) Copyright Library Journals LLC, a wholly owned subsidiary of Media Source, Inc. No redistribution permitted.

Best-seller Grisham (The Judge's List) returns with another character-driven thriller. Grisham begins his novel with a fascinating history of Eastern European immigrants, mostly Croatian, who settled in Biloxi, MS. Lance Malco, a second-generation immigrant, opens a string of clubs on a strip that offers illegal gambling, prostitution, and watered-down liquor, while his friend Jesse Rudy becomes a lawyer. Lance and Jesse's sons Hugh and Keith become inseparable friends and admired stars of the Biloxi high school baseball team, although their paths diverge after graduation. Hugh ends up working for his father's illegal gambling and prostitution syndicate, while Keith becomes a lawyer like his father. When Jesse is elected as Biloxi's district attorney and is tasked with cleaning up Lance's illegal clubs, the two families' paths collide in a devastating way. Narrator Michael Beck's spot-on pacing keeps the narrative moving through the courtroom drama that follows as well as when describing the tensions between family and friends. Listeners will appreciate Beck's Southern accent, which adds to the atmosphere of this gripping story. VERDICT Fans of Grisham will enjoy this compelling mystery that delves into Biloxi's gritty side and ends with a poignant twist.—Ilka Gordon
---
Kirkus
Copyright © Kirkus Reviews, used with permission.

Friends turn foes in this Mississippi mix of courtroom and crime. In 1960, 12-year-olds Keith Rudy and Hugh Malco are Little League fast-balling all stars and great friends in the Gulf Coast city of Biloxi, Mississippi. They'd love to make it to the big leagues one day, but alas, this story isn't Field of Dreams. The lads' lives diverge dramatically: Keith studies hard at Ole Miss, becomes an attorney, and sets up a law practice, while Hugh thrives in a seedy underworld of strip joints, honky-tonks, prostitution, and "unchecked vice" along "the poor man's Riviera." The Category 5 Hurricane Camille flattens Biloxi in 1969 and gives Keith many clients from cheated insurance policyholders. Unfortunately, Camille doesn't clean up the local underworld so much as rearrange it. So Keith decides to run for district attorney and put criminals behind bars. At first, corrupt county sheriff Fats Bowman isn't worried. "Need I remind you," he tells his gang, "that the graveyard is full of politicians who promised to clean up the Coast?" But he and Hugh soon feel the heat from Keith, and they fight back hard. Plenty of murders stoke the story's engine, naturally leading to courthouse scenes where the author excels. But how far will Hugh Malco go to keep Biloxi dirty and profitable? He wouldn't try to hurt his old pal, would he? This is a multigenerational tale also starring Keith's and Hugh's fathers, Jesse and Lance. Perhaps because the novel spans decades, a lot of material feels like summary—readers quickly learn that many residents are of Croatian descent, and there are barely enough mentions of Black people to acknowledge their existence. The interpersonal dynamics make the story, because attentive readers will suss where the plot is going from a country mile away. For one thing, it's a straight line save for one humongous surprise. But the author is always an engaging storyteller even when he could add another twist or two. Not vintage Grisham but still a worthy yarn. Copyright © Kirkus Reviews, used with permission.
---
Book list
From Booklist, Copyright © American Library Association. Used with permission.

Keith Rudy and Hugh Malco were born a month apart in Biloxi, Mississippi, in the 1960s. They were best friends who played baseball together, and they might have remained close were it not for their fathers: Hugh's dad wound up being a big man in Biloxi's thriving organized crime world; Keith's father, on the other hand, was a crusading anti-crime prosecutor. As sons will do, each followed in his father's footsteps. Now, a tragedy sets the two men on a direct collision course, and nothing, not even a friendship that once was, will stop the war that is coming. Naturally, Grisham's latest is a legal thriller, complete with a riveting courtroom showdown, but it's also much more than that. It's a family saga reminiscent of Jeffrey Archer and Dennis Lehane, and in its exploration of the gray area between absolute right and absolute wrong, it frequently has the feel of a Don Winslow novel. Grisham has created some of his most memorable characters here (the supporting cast is especially rich and meaty), and readers will very quickly find themselves completely invested in the story and the lives of everyone who inhabits it. HIGH-DEMAND BACKSTORY: Grisham's legions will follow him anywhere, but they will be especially thrilled to find him at the top of his game this time.