by R.F. Kuang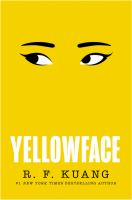 Kirkus
Copyright © Kirkus Reviews, used with permission.

What happens when a midlist author steals a manuscript and publishes it as her own? June Hayward and Athena Liu went to Yale together, moved to D.C. after graduation, and are both writers, but the similarities end there. While June has had little success since publication and is struggling to write her second novel, Athena has become a darling of the publishing industry, much to June's frustration. When Athena suddenly dies, June, almost accidentally, walks off with her latest manuscript, a novel about the World War I Chinese Labour Corps. June edits the novel and passes it off as her own, and no one seems the wiser, but once the novel becomes a smash success, cracks begin to form. When June faces social media accusations and staggering writer's block, she can't shake the feeling that someone knows the truth about what she's done. This satirical take on racism and success in the publishing industry at times veers into the realm of the unbelievable, but, on the whole, witnessing June's constant casual racism and flimsy justifications for her actions is somehow cathartic. Yes, publishing is like this; finally someone has written it out. At times, the novel feels so much like a social media feed that it's impossible to stop reading—what new drama is waiting to unfold. and who will win out in the end? An incredibly meta novel, with commentary on everything from trade reviews to Twitter, the ultimate message is clear from the start, which can lead to a lack of nuance. Kuang, however, does manage to leave some questions unanswered: fodder, perhaps, for a new tweetstorm. A quick, biting critique of the publishing industry. Copyright © Kirkus Reviews, used with permission.
---
Publishers Weekly
(c) Copyright PWxyz, LLC. All rights reserved

A struggling novelist passes off a manuscript left by her dead college friend in this excellent satire from Kuang (Babel, or the Necessity of Violence). Athena Liu, who is Chinese American, dies accidentally by choking at her Washington, D.C., apartment while celebrating a movie deal for one of her novels. At the celebration is June Hayward, who met Athena when they were at Yale together, and whose own career has stalled after her publisher folded. Since then, while watching Athena's meteoric rise, she came to find her old friend "unbearable." In the commotion after Athena's death, June, who is white, pilfers a manuscript from her desk. Titled The Last Front, it's a historical novel about the role of Chinese laborers in WWI. After June gets a six-figure deal for it, she excises slurs used against Chinese laborers and adds a love story between a white woman and a Chinese soldier. Against objections from Candice Lee, a Korean American editorial assistant, the book goes to market, where it climbs up the bestseller list and attracts a vociferous backlash from the AAPI community, plus a scathing review from a prominent critic, who calls it a "white redemption" narrative. June grows increasingly anxious as she's accused online by @AthenaLiusGhost of stealing Athena's work, then starts thinking she's seeing Athena at readings and around town. Kuang provides a sharp analysis of publishing's blind spots and guides the plot toward a thrilling face-off between June and Athena's "ghost." This is not to be missed. Agent: Hannah Bowman, Liz Dawson Assoc. (May)
---
Book list
From Booklist, Copyright © American Library Association. Used with permission.

Ever since they met at Yale as freshmen, June Hayward has watched Athena Liu grow into a writer and best-selling author, while June can barely get publishers to look twice at her debut. When Athena dies in a freak incident, June finds and rewrites her friend's unpublished manuscript about Chinese laborers, passing it off as her own under the racially ambiguous pen name, Juniper Song. The book receives rave reviews, and June skyrockets to the best-seller list, much to the joy of her publishers and literary agent. The public loves Juniper Song. But things quickly spiral downward when accusations of plagiarism arise on social media, and June can't stop seeing Athena's ghost haunting her wherever she goes. When her new status is threatened, though, June realizes she will do whatever it takes to stay at the top. In a moment when racial equity and diversity are constant buzzwords, Kuang (The Poppy War, 2018) illustrates the pernicious and codependent relationship between the empowered and the oppressed and explores how one cannot exist without the other. Her magnificent novel uses satire to shine a light on systemic racial discrimination and the truth that often hides behind the twisted narratives constructed by those in power.