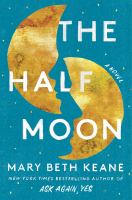 Kirkus
Copyright © Kirkus Reviews, used with permission.

In a New York commuter town during the week of an epic blizzard, a married couple's crisis comes to a head. Is the Half Moon—a popular bar in Gillam—waxing or waning? And what about owner Malcolm Gephardt's marriage? The bar has been struggling since Malcolm fulfilled his dream and bought both the business and the building, the latter against the advice of his lawyer wife, Jess. But Malcolm, 45, "handsome and charming and people liked him instantly," who worked at the bar for 24 years before buying it, has always wanted to run the place and also feels that the expense of purchasing his baby somehow compensates for the fortune Jess has spent on IVF in pursuit of her own dream of fertility. The couple's history is capably delivered in nonsequential descriptions and flashbacks from both perspectives. They've been together for 15 years, loved each other passionately from the start, married because of Jess' pregnancy, which failed, yet lost their way in more recent times, leading Jess to move out some four months earlier. Now, as the heavy snow falls, Malcolm learns she has been seen with Neil Bratton, a recently arrived, divorced lawyer with three children and a house at the posh end of town. Family, commitment, work, and class all underpin this sympathetically drawn portrait of a stuttering marriage and also its wider community of parents, friends, and employees, although the emotional territory is less visceral than in Keane's bestselling Ask Again, Yes, also set in Gillam. Subplots involving a missing Half Moon regular and the threatening visits of a man pressuring Malcolm to repay his debts interleave developments in the marriage. But it's the contemplation of a meaningful relationship after early dreams have faded that best showcases Keane's inviting empathy, even if the ending is too neatly resolved. Keane's satisfying storytelling is the takeaway. Copyright © Kirkus Reviews, used with permission.
---
Library Journal
(c) Copyright Library Journals LLC, a wholly owned subsidiary of Media Source, Inc. No redistribution permitted.

The latest novel by best-selling Keane (Ask Again, Yes) takes readers into a marriage that is struggling. Jess and Malcolm Gephardt married when she got pregnant, but she lost that baby. Jess ends up undergoing years of infertility treatments and IVF, which is immensely frustrating and expensive. Jess is an attorney but doesn't love her job, only the paycheck that comes with it. Meanwhile, Malcolm has purchased the bar where he's worked for over 20 years, but he neglects to tell Jess that he also bought the building on a handshake deal with his old boss, which proves to be problematic. Everything comes to a head one week in the couple's small town, when a blizzard hits and everyone loses power, one of the bar's regulars goes missing, Malcolm is overwhelmed with money problems, and worst of all, Jess leaves him for another man. These events beg the question: Can this marriage be saved? VERDICT A deep dive into the complexities of marriage makes this novel perfect fodder for book discussions. Should appeal to fans of Elizabeth Berg, Eleanor Lipman, and Meg Wolitzer.—Stacy Alesi
---
Book list
From Booklist, Copyright © American Library Association. Used with permission.

Malcolm Gephardt is a charming guy and the consummate bar owner. But charm can't fix a slow Saturday night, pay the liquor distributors, or convince his wife, Jess, that their family of two is enough. The Half Moon, the platonic ideal of a small town bar, still has big bills to pay. Charm has gotten Malcolm out of more than a few sticky spots, but, lately, everything is different. With a blizzard on the way, the bar falling further in the red, and Jess refusing to talk, Malcolm can tell something's about to snap. And snap it does, though not in a way he could have ever predicted. Keane (Ask Again, Yes, 2019) explores the sacrifices of a marriage, setting Malcolm's impulsive deal to buy the bar he loved against Jess's consuming dream of parenthood. Keane is sympathetic to her subjects, letting Malcolm and Jess air their thoughts in alternating chapters; the tension is undeniable and deeply compelling. Mixing two parts Matthew Norman, one part Greg Olear, topped with J. R. Moehringer's The Tender Bar and served with an unexpected twist, Keane's charming, tautly-paced, and introspective novel will delight fans of Jennifer Close's Marrying the Ketchups.
---
Publishers Weekly
(c) Copyright PWxyz, LLC. All rights reserved

Keane (Ask Again, Yes) takes a nuanced look at a troubled marriage during a fraught week of blizzards and power outages in a predominantly Irish New York City suburb. "Handsome and charming" Malcolm Gephardt, 45, finally recognizes that "middle age is looming," and that the Half Moon, the bar he owns, is in dire straits. His wife, Jess, an attorney, left him several months earlier, having been worn out by seven years of failed fertility treatments and discouraged by Malcolm's refusal to include her in financial decisions. He has held out hope that Jess will come back, until he learns she's involved with a fellow lawyer who has three young children. Keane surrounds her main characters with a crew of nosy people who regularly check in on Malcolm ("part of him suspected these friends, grown men, all in their mid-forties, loved the excuse to leave their families on a Saturday afternoon"), and livens the proceedings with juicy subplots about a shady loan with terms enforced by even shadier goons, the mysterious disappearance of a bar patron, and Malcolm's mother, who, unbeknownst to Malcolm, has been carrying on an affair with the neighbor who plows her driveway. Keane pulls off a quiet, contemplative novel about the dwindling time for second chances. Agent: Chris Calhoun, Chris Calhoun Agency. (May)