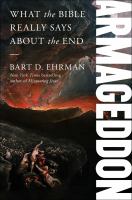 Book list
From Booklist, Copyright © American Library Association. Used with permission.

Ehrman, that rare biblical scholar whose books are best-sellers, writes this time about the book of Revelation, that odd, violent, final book of the New Testament, believed by millions of Christians to be a preview of what's ahead. Ehrman takes a close look at what Revelation says and the horrific future it predicts for most of humanity, but he also incisively compares its values to what Jesus actually said in the Gospels. John of Patmos, Revelation's assumed writer, celebrates the power and glory that will eventually come to believers, while Jesus' inclusive message focuses on poverty and self-sacrifice. Perhaps most important, Ehrman discusses what Revelation means to public issues today—climate change, for example, which dims in significance for those who see an imminent end. Revelation also plays a key part in Evangelical Christians' support of Israel, mostly because the events of the End Times must take place there before Jesus can return. Ehrman is always highly readable, but this time he interacts with his audience, posing thought-provoking questions about what readers believe and how those beliefs affect their actions. Lots to ponder here.
---
Kirkus
Copyright © Kirkus Reviews, used with permission.

A critical look at the New Testament book of Revelation. Religion scholar Ehrman, professor of religious studies at the University of North Carolina, continues a career devoted to confronting conventional readings of the Bible by turning to its closing book. The author argues that Revelation has been improperly read and interpreted in modern times and that the book was written by a committed yet misled Christian who did not understand the true Christ. Ehrman begins with a worthwhile overview of what Revelation is about and how it has been read and interpreted throughout the history of Christianity. He posits that Revelation was not a prophetic work aimed at explaining an event far in the future but had meaning and purpose directly aimed at the generation during which it was written. Ehrman hopes to look beyond the traditional end-times mentality to question its very view of Christ and his followers. "The difficulty with Revelation," he writes, "is not that it predicts a future that never happened but that it presents a view of God that is deeply unsettling….Is it not disturbing that, in the end, the unstoppable justice of God triumphs over his mercy?" The author then goes on to examine how the Christ of Revelation differs markedly from the Christ of the Gospels. He notes that God is portrayed in the Gospels as having mercy and love, whereas in Revelation, God is cruel, vengeful, and propelled by justice devoid of mercy. "In my view," he concludes, "the God of Revelation cannot be the true God." All of this matters, Ehrman believes, precisely because Revelation has had far-reaching consequences on historical events. Christian sects have been built around it, popular views of how the world will end are based on it, and even foreign policy is influenced by it. Revelation is too significant to ignore and too important to be improperly read. Well-argued, certain-to-be-controversial account of the Bible's closing story. Copyright © Kirkus Reviews, used with permission.
---
Library Journal
(c) Copyright Library Journals LLC, a wholly owned subsidiary of Media Source, Inc. No redistribution permitted.

Ehrman (religious studies, Univ. of North Carolina—Chapel Hill; Heaven and Hell) is well known for serious biblical scholarship and the willingness to press provocative implications of it. This book is a continuation of that style, this time bringing the Book of Revelation into view. Much of the discussion covers the history of interpretation, with special focus on fundamentalist approaches, a review of scholarly consensus on apocalypses, and a look at some of the ways readings of Revelation have affected life beyond the text, such as the Branch Davidian siege and views on climate change. The book's overview is well-sourced, accessible, and rather uncontroversial from an academic standpoint. The second half, however, is where Ehrman makes points that will cause the most contention among Christian audiences. Using his considerable hermeneutic skill, he asks readers to consider whether the author of Revelation truly presents a depiction of Jesus that is in harmony with the Jesus in the Gospels. The book questions whether the images of violence, coercion, and torture in Revelation, even if totally symbolic, represent Christ's teachings. VERDICT Lucid and compelling, Ehrman challenges readers to encounter the ancient Book of Revelation once again. This title makes it worthwhile.—Zachariah Motts
---
Publishers Weekly
(c) Copyright PWxyz, LLC. All rights reserved

Ehrman (Heaven and Hell), a religious studies professor at the University of North Carolina, tackles the Book of Revelation in this ambitious but uneven outing. Written by the apostle John in exile, the "bizarre and unapproachable" text details God's final judgments, which makes it especially relevant to consider in today's "apocalyptic times," Ehrman writes. Setting out a history of eschatological predictions, the author surveys dispensational premillenialism, a 19th-century school of thought that holds that Christ will return twice, and Christian Zionism, which calls for the mass return of Jews to Israel to "set the stage" for Jesus's return. Examining passages about the apocalypse in Daniel and Ezekiel, the author concludes that literalist interpretations have gotten it wrong: Revelation was written for John's era, and its "exaggerated claims" offered possible salvation to the day's Christians and punishment for their Roman oppressors. Gentler interpretations, meanwhile, are wishful thinking. Instead, he argues, the book isn't reflective of God's true nature at all. Despite the rigor Ehrman brings to the table, there is surprisingly little discussion about first-century apocalyptic literature (including the writing of the Essenes), and Ehrman spends a lot of time debunking others' views rather than making a case for his own. There are some bright moments, but this entry falls short of its lofty aims. (Mar.)