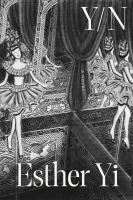 Publishers Weekly
(c) Copyright PWxyz, LLC. All rights reserved

In Yi's stunning debut, a writer becomes obsessed with a K-pop idol. When the unnamed narrator sees a boy band's performance, she's struck with an overpowering love for one of the members, Moon. After, her fandom verges on religious devotion, and she does whatever she can to feel close to Moon, even if it means losing her boyfriend or risking her job. She begins writing stories about meeting him, identifying her protagonist as "Y/N" (your name), so that her readers can imagine themselves as Y/N. When Moon announces he's leaving the group and retreating from the spotlight, the narrator flies to Seoul to find him, where her fervor increases. Yi brings a distinctive voice and lush prose to her depiction of the narrator's fixation, which culminates in a contest for fans to meet the band and intertwines with the narrator's Y/N stories: "One evening, Y/N and Moon buy a pair of codfish and let the bodies hiss parallel in the pan until the smell fills their tiny apartment like the spirit of a third person." The narrator's feelings for Moon are complex and varied, which makes her quest endlessly intriguing. Strange, haunting, and undeniably beautiful, this shines. Agent: Ian Bonaparte, Janklow & Nesbit Assoc. (Mar.)
---
Book list
From Booklist, Copyright © American Library Association. Used with permission.

The unnamed 29-year-old narrator of Yi's first novel is introduced to a K-pop group when her roommate drags her along to their concert in Berlin, where they live. There, she locks her gaze on Moon, the youngest of the group, and becomes obsessed with learning everything about him. At a fandom celebration, the narrator learns about Y/N fanfiction: stories in which the protagonist is marked with "Y/N," or "Your Name," and the reader can insert their own name to experience lifelike situations with the celebrity. Inspired, the narrator begins writing her own Y/N fanfiction as her love for and obsession with Moon grows. But when Moon's entertainment company suddenly announces his retirement, she is struck with a sense of helplessness. She hops on a plane to Seoul to find him and make her passionate fantasies complete. In this sharp and humorously perverse novel, Yi examines the sort of identity-altering, obsessive fandom that is only destined to disappoint if one looks too closely.
---
Kirkus
Copyright © Kirkus Reviews, used with permission.

K-pop and metafiction collide in this debut novel. Yi's first novel follows an unnamed narrator, a Korean American woman living in Berlin, who spends her days working as a copywriter and develops an obsession with a K-pop group. From its earliest pages, the novel employs pop music as a way to wrangle with art and literature on a grand scale. For instance, the narrator documents the band's metatextual obsessions: "Like a civilization, the boys entered new eras, one for each album. In preparation for their current era, they'd pored over a Korean translation of Sophocles, troubled by Oedipus's decision to blind himself." And Yi also incorporates the different ways that fandom resonates throughout popular culture. The book's title is a reference to a type of fan fiction where the reader is asked to substitute their own name—"Y/N" stands for "your name"—throughout the story. At one point, the narrator describes fandom as a way of measuring chronology: "Fans remembered details from their lives in arbitrary connection with the pack of boys. It was how we kept track of time." When Moon, the narrator's favorite member of the group and the figure at the root of her fan fiction, abruptly retires, it prompts her to travel to Seoul, where she revisits the area where her father grew up. Her experiences also prompt her to think about her relationship to the Korean language: "I had no Korean handwriting of my own, having grown up speaking the language but almost never writing in it." Yi includes some of the narrator's fan fiction alongside her journey, which takes on an increasingly archetypal quality as it reaches its conclusion and she encounters characters known as the Caregiver and the Music Professor. It's a surreal quest that seems tailor-made for the present moment. A heady, immersive journey into musical fandom and cultural dislocation. Copyright © Kirkus Reviews, used with permission.