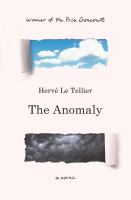 Kirkus
Copyright © Kirkus Reviews, used with permission.

A mystifying phenomenon sends shock waves through the world of an alternate 2021. The opening chapter presents a detailed portrait of a professional assassin called Blake, a man described as "extremely meticulous, cautious, and imaginative." The same adjectives could be applied to author Le Tellier: Trained as a mathematician and a scientific journalist, he uses these first pages to prime the reader for his methodically crafted story. The action then abruptly jumps to Victor Miesel, a disillusioned author and translator who becomes "mired in a horrible impression of unreality" after a turbulent flight. Over the following weeks, Miesel feverishly writes a new book called The anomaly, sends it to his editor, and kills himself. Then, snap, a new chapter begins, introducing a film editor named Lucie, who, along with every subsequently introduced character (eleven, altogether), is inexplicably requisitioned by the authorities.The connection between these people soon becomes clear: They were all passengers on the same turbulent flight. What exactly happened on this airplane? Le Tellier withholds the details for long enough that revealing the mystery here would spoil the entrancing quality of the book. Hunter's brilliant translation from the French—her fifth collaboration with Le Tellier—transforms Le Tellier's distinct French voice into a distinct English one. More importantly, Hunter captures the playful exhilaration with which Le Tellier marries his audacious plot to a deep concern for existentialist philosophy. Excerpts from Miesel's The anomaly appear in epigraphs for each new section, including: "There is something admirable that always surpasses knowledge, intelligence, and even genius, and that is incomprehension." Humorous, captivating, thoughtful—existentialism has never been so thrilling. Copyright © Kirkus Reviews, used with permission.
---
Publishers Weekly
(c) Copyright PWxyz, LLC. All rights reserved

This Prix Goncourt winner from Le Tellier (All Happy Families), an extraordinary mix of existential thriller and speculative fiction, introduces several characters, starting with a French hit man named Blake, all of whom take Air France Flight 006 from Paris to New York on March 10, 2021. The plane hits some highly unusual turbulence as it nears its destination, but lands safely. Later, one passenger, author Victor Miesel, writes a novel titled The Anomaly, then dies by suicide. Other passengers' lives continue onward in their own way. Then FBI agents seek out each of the passengers on the flight. All are gathered under Protocol 42, developed by two mathematicians to make sense of unforeseen and unimagined air traffic events that go far beyond extraterrestrial interference or controls overridden by an artificial intelligence. The reality-defying incident creates a crisis, which a Trump-like American president fumbles his way through. Questions of philosophy, mathematics, and astrophysics bend this novel far from the typical mold, and Le Tellier's characters must confront the deepest questions of existence. This thought-provoking literary work deserves a wide readership. (Nov.)
---
Book list
From Booklist, Copyright © American Library Association. Used with permission.

The prolific Le Tellier returns with a novel both epic and small in scope. Winner of the 2020 Prix Goncourt in its original French, the story dives into multiple perspectives, introducing a dizzying number of characters. There's David, who is facing a grim cancer diagnosis; rapper Slimboy, who is enjoying viral-video fame; Lucie, who's recently ended an affair with a much older man; and many more. Of particular note is Victor Miesel, an author who pens a novel, sends it off, and jumps to his death. For many pages, it's unclear why these people are connected, beyond the fact that they once got on a plane together. A shocking turn of events sends the novel in a different direction, leaving readers to contemplate what actually happened on that flight. While the high-concept twist might intrigue some genre readers, this book is better suited to those who are interested in literary fiction and works in translation. At times both sardonic and serious, it's a lot to take in, but makes for a rewarding journey overall.