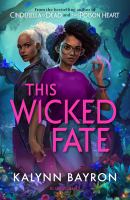 Kirkus
Copyright © Kirkus Reviews, used with permission.

Briseis goes on an even riskier journey with more menacing enemies in the sequel to This Poison Heart (2021). Sixteen-year-old Briseis Greene's story continues as she is tasked with reuniting all the pieces of the Absyrtus Heart in order to save Thandie, one of her adoptive moms, who is being held by Hecate in the underworld. Bri finds out that Circe (the biological aunt whose existence she only recently learned of following her supposed death) is actually alive and has been searching for the pieces of the Heart as well. This revelation marks just the beginning of the discoveries and twists that Bri has to deal with: The history of her biological family and their connections to mythological gods go deeper than she realized, and the adversaries she has to face are even more dangerous than everything she's experienced thus far. But saving her mom is paramount, and Bri is willing to do anything and face anyone in order to do so. Readers who were hooked after reading the previous book with its cliffhanger ending will be pleased to follow more of Bri's story. Bayron highlights themes of sisterhood, familial bonds, and intergenerational trauma in this novel centering Black characters. Bri's story showcases how love can help give one the strength and courage needed to confront fears and weather uncomfortable truths. This duology closer delves deeper into mythology while depicting textured, realistic relationships. (Fantasy. 13-18) Copyright © Kirkus Reviews, used with permission.
---
Book list
From Booklist, Copyright © American Library Association. Used with permission.

In Bayron's lushly written sequel to This Poison Heart (2021), Briseis finds herself on a mission to track down a mythical plant—which has been both a legacy and a burden for generations of her biological family, the Colchis clan—to save her mother from the underworld. She has just one moon cycle to find it. Thankfully, her aunt Circe and found-family Marie and Persephone have spent years searching already, so they're not far from success, but traitorous Karter and his family are also searching for the plant and just as close. Bayron cleverly slips feminist versions of Greek mythology into the novel, explaining the origin of the Colchises' gifts and responsibilities as well as the long-simmering conflict between the families. Her descriptions of the plants and environments are deliciously tactile, and the implicit questions about how cultural touchstones like myths skew history are thought provoking. Sharp banter, dynamic characters, and a warm sapphic romance give this even more verve. Teens who grew up on Rick Riordan's mythology-based fantasies will appreciate this earthy, perceptive novel, which satisfyingly wraps up the duology.