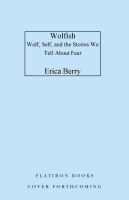 Library Journal
(c) Copyright Library Journals LLC, a wholly owned subsidiary of Media Source, Inc. No redistribution permitted.

Berry's debut nonfiction title is an exploration of more than just the biology of wolves and the nature of human interactions with these mysterious creatures; it is an analysis of the polarization that plagues modern American society, preventing many from distinguishing experiences and individuals as more than just right or wrong, hero or criminal, more nuanced than simplistic. The story of the wolves repopulating Oregon takes center stage, alongside traditional tales from Aesop to the Brothers Grimm. It is compared and contrasted with anecdotes from the author's own life, which provide a framework for examining the bigger picture—the nature of fear and how it makes some feel inclined to vilify people, places, and experiences they do not fully comprehend or have not directly encountered. VERDICT A fascinating read, perfect for fans of Mary Roach's Fuzz, or anyone who enjoys learning about wolves and what they can teach about human nature.—Jennifer Moore
---
Book list
From Booklist, Copyright © American Library Association. Used with permission.

Beginning with a haunting photograph of a dead wolf lying alongside a road, essayist Berry uses her obsession with another wolf, OR-7, the seventh wolf radio-collared in Oregon, to follow the story of wolves in that state and confront her own fears. What is it about wolves that they are both creatures to fear and environmental poster animals? As Berry learns about wolves and OR-7's family, she finds that her wolf obsession has affected how she reckoned with things that scare her. Her account of her journey to confront and assimilate her fears and of the wolves that arrived on their own to repopulate Oregon is hypnotic. We feel her unease at the attentions of a strange man on a cross-country train, but we also feel awe for the pioneering wolves, joy at their producing cubs, and anger and sadness at the shooting of wolves. Interlaced with myriad quotations from other essayists, scientific papers, fairy tales, and feminist writings, this blend of memoir and nature writing will call to those who delve deeply into themselves and into our relationship with the wild.
---
Kirkus
Copyright © Kirkus Reviews, used with permission.

A writer meditates on the place of the wolf in the world and in the imagination. "I am not an academic nor a scientist, I am just one animal trying to see another." So writes Berry, who opens with an unhappy story of a wolf that was collared by biologists and was clearly known to them yet was gunned down outside a small town in northeastern Oregon. Some 30 wolves have died at human hands in Oregon since the Yellowstone wolf reintroduction program began. From Yellowstone, individual animals and small packs have radiated outward to Idaho, Montana, and the eastern Pacific Northwest. Along the course of her narrative, Berry examines both their movements and the reactions of humans, sometimes based on the supposed need to protect livestock from predation but mostly out of fear. Humans fear what they don't know, and wolves certainly count, even though the incidence of wolves' attacking humans is extremely rare. Wolves, conversely, have every reason to fear humans; says one Canadian biologist whom Berry interviews, "If you experience something life-threatening, you are a different animal the very next day." The author ranges widely among the body of biological facts and mythology to paint a portrait of wolves that sometimes threatens to turn into a data dump, with a page here devoted to Indo-European linkages of wolves to unruly teenage warrior initiates and a page there to the psychological origins of lycanthropy. Even if the material is sometimes scattered, Berry offers some intriguing insights: "What if the werewolf is not shackle but solution?" While her book doesn't quite measure up to those by Barry Lopez and Rick McIntyre, it's less a field report—though Berry does travel into wolf country, meaning mostly human country populated by men, mostly, who would rather "shoot, shovel, and shut up" than welcome wolves back—than a kind of extended essay on what wolves mean. Occasionally digressive but worthy addition to the literature surrounding wolves. Copyright © Kirkus Reviews, used with permission.