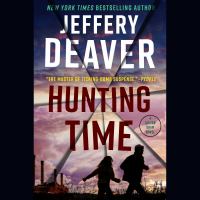 Kirkus
Copyright © Kirkus Reviews, used with permission.

After the reward money, as always, security consultant Colter Shaw searches for a missing person several other less scrupulous people are searching for, too. The Midwestern startup Harmon Energy Products has worked feverishly to develop Pocket Sun, a room-sized nuclear reactor that holds serious promise for supplying African states' energy needs. Its biggest innovation, founder Marty Harmon tells Shaw, is the security intervention trigger developed by engineer Allison Parker, a device that renders the reactor inoperable if it's stolen. When an S.I.T. is itself stolen by an insider planning to sell it to one of Harmon's competitors, Shaw promptly identifies the thief, earning a shot at a much bigger reward if he can find Allison Parker, who's taken off with her daughter, teenage math prodigy Hannah, in response to the news that her ex-husband, former Ferrington Police Det. Jon Merritt, has been released from prison early. Allison's testimony had put Merritt away for three years for assaulting and attempting to kill her. Now, hours after lawyer David Stein warns her that Merritt has been released after only a year, she and the vocally reluctant Hannah have taken a powder, and Merritt has grabbed Stein for information about where they might have gone. The complication is that Shaw and Merritt aren't the only people looking for Allison; a crew of mobbed-up killers are on her trail as well. Remarkably for the reliably inventive author, that really is the main complication; the converging searches proceed along relatively predictable lines, though Deaver wouldn't be Deaver if he didn't have cannily timed surprises to detonate along the way. Deaver lite: a fleet, irresistible tale with just enough twists to have been imagined by someone else. Copyright © Kirkus Reviews, used with permission.
---
Book list
From Booklist, Copyright © American Library Association. Used with permission.

Reward seeker Colter Shaw returns for a fourth outing (following Final Twist, 2021). This time, Shaw is hired to locate Allison Parker, an engineer who has disappeared with her teenage daughter, Hannah, but finding the missing woman proves more difficult than Shaw anticipated, and he makes his living finding people, including those who would prefer to stay hidden. Allison, however, knows how to use her technological skills to stay hidden. In addition, when Shaw discovers why the woman has gone into hiding and who is threatening her, he realizes he's stepping into some very dangerous territory. Though not as strong as Deaver's Lincoln Rhyme novels, the Shaw series has grown since its inception in 2019's The Never Game: in subsequent Shaw novels, Deaver has opened the character up, exploring his tumultuous past and giving him more depth. Each novel in the series has been better than the last, and this is the best one yet, with some seriously evil villains and some very nicely handled twists and turns. Keep 'em coming.
---
Publishers Weekly
(c) Copyright PWxyz, LLC. All rights reserved

MWA Grand Master Deaver's bland fourth thriller featuring professional reward-seeker Colter Shaw (after 2021's The Final Twist) takes Shaw to the tough Midwestern city of Ferrington, where entrepreneur Marty Harmon's startup company has been working on developing miniature nuclear power plants. After the theft of one of the company's products, the Pocket Sun, Harmon hires Shaw to retrieve it; he also hires Shaw to locate and protect its inventor, Allison Parker. Parker and her teenage daughter, Hannah, have fled their home in Ferrington after the early release from prison of Parker's ex-husband and Hannah's father, former cop Jon Merritt. Merritt was convicted of attempting to murder Parker, and she fears he'll try to finish her off. Once Shaw finds Parker, the Ferrington police are unable, or unwilling, to devote resources to guarding her, and she takes matters into her own hands, which makes Shaw's job more difficult. With the personal puzzles Shaw grappled with in previous books resolved, the once-complex protagonist has become just another eccentric, skilled lone ranger. This is a forgettable page-turner that lacks the intelligence of Deaver's best work. Agent: Deborah Schneider, Gelfman Schneider Literary. (Nov.)