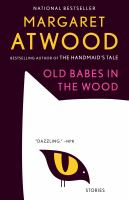 Book list
From Booklist, Copyright © American Library Association. Used with permission.

As Atwood's wry title suggests, women, aging, and nature are at play in this bountiful short-story collection. Half of the 15 tales, most appearing for the first time, star Nell and Tig, two independent spirits enamored of books, remote places, adventurous hikes, good food, and each other. Long married, they're now deploying humor and strategic evasions to contend with the diabolical diminishments of age. These are love stories spiked with shrewd observations and vivid memories as Nell watches Tig gradually lose his robustness, ultimately leaving her to navigate confounding new terrain. Houses and objects are redolent with the couple's different temperaments and mutual adoration; incidents are at once profound and absurd. "Grieving takes strange forms," Atwood writes, and, indeed, she examines the surprises of grief with acuity, wit, and intimacy in stories pithy and sustained. A particularly complex and haunting tale, "A Dusty Lunch," spotlights Tig's father, Canada's youngest brigadier during WWII. Astute, flinty, and deft, Atwood portrays longtime women friends in bantering camaraderie and an "evil mother" who may or may not be a witch, tells a dystopian tale of a virus-ruled future, and, in the title story, brings Nell and her sister, Lizzie, to their family's old, very rustic cabin. Atwood is, once again, exacting, mischievous, funny, insightful, virtuoso, and spellbinding.HIGH-DEMAND BACKSTORY: Atwood's legions of avid readers will pounce on her first short-story collection since Stone Mattress (2014).
---
Library Journal
(c) Copyright Library Journals LLC, a wholly owned subsidiary of Media Source, Inc. No redistribution permitted.

Atwood (The Handmaid's Tale; Burning Questions: Essays and Occasional Pieces, 2004 to 2021) delights with her first collection of short stories since 2014's Stone Mattress. Some of the 15 stories were previously in the New Yorker and the New York Times Magazine, while others are original to this collection. The audio is performed by a full ensemble of stellar narrators, including Linda Lavin, Dan Stevens, Kimberly Farr, Rebecca Lowman, Bahni Turpin, Dawn Harvey, and Allan Corduner. Half of the tales center on the lives of married couple Tig and Nell, as remembered by Nell, who is voiced somewhat awkwardly by Atwood herself. Other stories depart dramatically from the Tig and Nell stories and feature a mix of dystopian science fiction, speculative fiction, grim humor, and fantasy. Despite the considerable talents of the narrators, the collection is not an easy listen, as it requires its audience to shift gears from lyrical reflections on loss and mortality to worlds populated by witches, aliens, and Greek philosophers. Some stories are long enough to be novellas, while others seem almost unfinished. VERDICT Expect many holds; this multifaceted collection should appeal to listeners looking to explore grief, aging, and the intimate bonds between loved ones.—Heather Davidson Maneiro
---
Kirkus
Copyright © Kirkus Reviews, used with permission.

The celebrated author's first collection of short fiction since Stone Mattress (2014). Atwood is, of course, one of the most celebrated Anglophone writers working today. She has been nominated for the Booker Prize six times and has won it twice—for The Blind Assassin (2000) and The Testaments (2019). The Handmaid's Tale (1985) is a groundbreaking work of science fiction that should be on anybody's list of the best—or, at least, most important—books of the 20th century. Her new collection of short stories is a mixed bag. The first section is a series of interconnected narratives centered around married couple Tig and Nell. "First Aid" begins with Nell coming home to find a trail of blood leading from an open front door into the kitchen. It ends up being a sweetly melancholy meditation on living in a world designed to kill us. "Two Scorched Men"—Nell's account of getting to know two World War II veterans who are friends while she's in France—is a fine story but an odd fit with the preceding work. In "Morte de Smudgie," Nell rewrites Tennyson's elegy for King Arthur for her dead cat, and the less said about this, the better. The middle section of this book is a hodgepodge of pieces that feel like experiments, exercises, and false starts. It's hard to escape the feeling that they are gathered here simply to fill enough pages to make a book of reasonable length while the Hulu series based on Atwood's greatest work is still in production—or while the author is still semi–internet famous for creating a Twitter flap about gender. This is too bad because, when Atwood returns to Nell and Tig, she offers a powerfully affecting quartet of stories in which Nell navigates widowhood—the best of these is the eponymous story that first appeared in the New Yorker. Honest and artful depictions of aging and loss—plus some other stuff. Copyright © Kirkus Reviews, used with permission.
---
Publishers Weekly
(c) Copyright PWxyz, LLC. All rights reserved

Atwood (The Handmaid's Tale) explores love and loss in this brilliant collection that mixes fantastical stories about the afterlife with realism. "Metempsychosis: Or, The Journey of the Soul," an amusing story of reincarnation, follows a narrator whose soul has jumped "directly from snail to human, with no guppies, basking sharks, whales, beetles, turtles, alligators, skunks, naked mole rats, aardvarks, elephants, or orangutans in between." "The Dead Interview" features an imaginary interview between Atwood and George Orwell, while in "Wooden Box," the narrator copes with the death of a longtime partner. Among the entries with a more realist bent are the linked stories that explore the strong bond between Nell and Tig after decades of marriage of. In "First Aid," Nell and Tig take a course from an emergency responder, which leads them to realize they'd prefer "the illusion of safety" rather than face the facts of mortality. "Better to march along through the golden autumn woods, not very well prepared, poking icy ponds with your hiking pole, snacking on chocolate, sitting on frozen logs, peeling hard-boiled eggs with cold fingers as the early snow sifts down and the day darkens," Atwood writes, evoking the magic of everyday life. She's writing at the top of her considerable powers here. (Mar.)