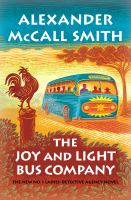 Kirkus
Copyright © Kirkus Reviews, used with permission.

Mma Precious Ramotswe's husband takes center stage in the latest adventure of the No. 1 Ladies' Detective Agency. The first third of this installment is nearly over before a paying client crosses Mma Ramotswe's threshold. Baboloki Mophephu is convinced that Bontle Tutume, the wicked nurse attending his aging father, a retired businessman and farmer, is scheming to marry him so that she can do the client and his two sisters out of their rightful inheritance. By this time, however, Mma Ramotswe has already encountered several more typical problems. Mma Molebatsi, a matron at the Orphan Farm run by Mma Ramotswe's old friend Mma Potokwani, suspects that Keitumetse, the latest young woman to arrive at her house, has formerly been enslaved by the employers who broke her wrist. Mma Ramotswe and Mma Grace Makutsi, the employee who's constantly promoting herself to higher and higher status in the agency, watch their old enemy Violet Sephotho, the Great Husband Stealer of Gaborone, take a package of chocolate biscuits from a grocery shelf, help herself to two of them, and replace the package without turning a hair. Most important, Mr. J.L.B. Matekoni, Mma Ramotswe's husband, meets an old schoolmate at a business conference and falls in with his highly speculative plan to start a new bus company, a project that will require him to mortgage Tlokweng Road Speedy Motors and risk his family's financial future. Even though she uncharacteristically misreads several of the characters who cross her path, Mma Ramotswe eventually works some of these problems out through her own resourcefulness and watches the rest resolve themselves through other means. Comfort-food reading, and never more welcome. Copyright © Kirkus Reviews, used with permission.
---
Publishers Weekly
(c) Copyright PWxyz, LLC. All rights reserved

Early in Smith's diverting 22nd No. 1 Ladies' Detective Agency novel (after 2020's How to Raise an Elephant), Mr. J.L.B. Matekoni, owner of Tlokweng Speedy Motors, attends a business seminar at a Gaborone hotel, where he reconnects with entrepreneur T.K. Molefi, a friend he hasn't seen since their school days. Mr. T.K. Molefi proposes to Mr. J.L.B. Matekoni that he invest in a bus company, an idea that doesn't go over well with Mr. J.L.B. Matekoni's wife, Precious Ramotswe, who's worried such a company would fail. Her husband would require a loan, with the building housing his garage and her detective agency as collateral. Meanwhile, Mma Ramotswe and her prickly partner, Grace Makutsi, accept a case from Mr. Baboloki Mophephu, who suspects that the nurse to Mr. Mophephu's elderly, mentally confused father has tricked the father into leaving her his house in his will. Along the way to satisfying solutions to both situations, Mma Ramotswe and her friends converse about such topics as the need to attend to the happiness of both men and women. As ever, Smith's mix of solving minor crimes and kindhearted philosophical ruminations enchants. Agent: Morgan Fenton, Morgan Fenton Literary. (Nov.)
---
Library Journal
(c) Copyright Library Journals LLC, a wholly owned subsidiary of Media Source, Inc. No redistribution permitted.

Mma Ramotswe has another mystery to solve, and it proves to be a knottier knot than any she has had to untie in the past. Plus, Charlie and his new bride and Mma Makutsi and her talking shoes are giving Mma Ramotswe headaches. More fun in a long-running, much-loved series.